THE PERSONAL TRAINER CONNECTION!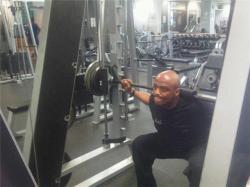 Specialties
Strength Building
Weight Loss
Rehabilitation
Yoga
Aerobics
Spin
Body Sculpting
Sports Specific/Boot Camp Group
Training Locations
home
gym
studio
outdoors
Woodland Park Gym 212 Parkview
Certifications
NASM
AFAA
IFA
CPR Certified Bonded and Insured By K and K Insurance
Personal Trainer Overview
My goal with each client is to develop a sure fire fitness program that fits their needs and body type. The focus of my training ranges from circuit training to boot camp weight loss which includes kickboxing/cardio training. I love the maximum interval training (P90X,Insanity). All fitness programs come with nutritional planning Also a Regional Beachbody Coach for the Houston area. Trainers in my home area want to enhance your bussiness drop me a line. TRAINING AND FITNESS PRICES FIT N GO PERSONAL TRAINING 45.00 - 75.00 (INDIVIDUAL SESSION) FIT N GO 60 MINUTE EXPRESS PLAN (8 SESSIONS) 200.00 FIT N GO 60 8 WEEK PROGRAM - (16 SESSIONS) - 800.00 FIT N GO 60 12 WEEK PROGRAM- (24 SESSIONS) - 950.00 FIT N GO 60 16 WEEK PROGRAM ( 32 SESSIONS) - 1150.00 FIT N GO 24 WEEK PROGRAM (48 SESSIONS) - 1800.00 * 8,16,24 WEEK PLANS COME WITH MONTHLY PAYMENT PLANS 250.00 DOWN CALL FOR PROGRAM RATES AND INFORMATION FIT N GO FITNESS ONLINE PROGRAMS 150.00 MONTH INCLUDES WORKOUT, NUTRITIONAL AND PROGRAM CONSULTING FIT N GO BOOT CAMP GROUP TRAINING (3) CLIENTS MINUNMIM 45.00 PER PERSON FIT N SIX 60 GROUP 16 SESSIONS - 750.00 ( 3 CLIENT MIM) FIT N SIX 60 GROUP 32 SESSIONS - 1250.00 (3 CLIENT MIN) FIT N SIX 45 BOX FIT BOOT CAMP 8 WEEK PROGRAM - MONDAY AND WEDNESDAY EVENINGS & SATURDAY MORNINGS (175.00) MONDAY WEDENSDAY EVE SAT AM (200.00) SUPERSTAR SPORTS TRAINING MONTHLY PRE SEASON AND POST SEASON TRAINING RATES 75.00 to 120.00 (INDIVIDUAL SESSION) - PRO PLUS 60 45.00 to 60.00 (INDIVIDUAL SESSION) - COLLEGE 60 35.00 to 50.00 (INDIVIDUAL SESSION) - HIGH SCHOOL 60 TEAM RATES CALL FOR AN APPOINTMENT MASTER CARD,VISA, AMERICAN EXPRESS ACCEPTED
Training Philosophy
My approach to each client is that "You are important to someone each day. Yourself! Your body is a car waiting to drive. Fuel the right gas of life each day"
Education
Associate of Applied Science Community College of Southern Nevada Las Vegas,Nevada
Bio
The founder of RSF Sport Fit Inc Michael Lewis-Collett formed a company that meets the needs of the customer with a focus on bringing his fitness expertise and merging with a passion to develop a state of the art company that can meet the customers needs with affordable costs. A native of the Houston area. Michael has spent most of his whole life in sports as an athlete,coach and a fitness professional. Michael worked as a civlian fitness specialist at military AFB installations in Sacramento and Las Vegas. A graduate of Gulf Coast Bible College where he recevied an Associate of Arts in Journalism and a Bachelor of Arts in the University of Nevada at Las Vegas system He also received Associate of Science in Kinesiology at Community College of Southern Nevada and has worked in the fitness industry as a fitness trainer with the Greater Houston YMCA and Bally Total Fitness where he spent time as a part-time group exercise instructor/personal trainer. Michael is certified and a member of the America Aerobics and Fitness Association (AFAA) and has a group exercise specialty certification in spin cycling and holds a Fitness Professional program certification with National Academy of Sports Medicine (NASM) and International Fitness Assocation (IFA). He is a member of the Fellowship of Christian Athletes (FCA) and the Women's Basketball Coaches Association (WBCA). He resides in the Houston area with hobbies being working out,travel and spending time coaching and intsructing basketball He also certified with State of Texas HUB as a fitness vendor and is bonded and insures all clients through K and K Insurance.