THE PERSONAL TRAINER CONNECTION!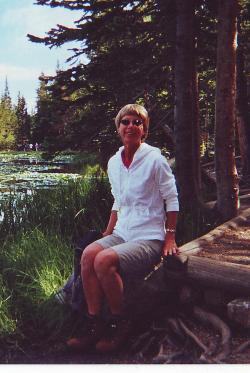 PERSONAL TRAINING FOR YOU
Lynne Sedita -
(727) 524-6326
Clearwater, Florida 33760
Trains both men and women.
contact trainer
Specialties
Strength Building
Weight Loss
Rehabilitation
Yoga
Pilates
Aerobics
Taichi
Kick Boxing
Body Sculpting
water exercise/speciality diseas
Training Locations
home
condo clubhouse, beach
Certifications
AFPA-American Fitness Professionals & Associates -Personal Training AFAA-Aerobics and Fitness Association of America-Boot Camps
Aerobics
etc. USWF- United States Water Fitness Association- Water Exercise
water therapy
Personal Trainer Overview
I offer you a complimentary training session for the first time in your home free with no obligation to sign up for other sessions or packages. It involves talking about what you would like to accomplish, goals, and what type of exercises you would like to do. Each client gets a unique program for their individual needs. Circuit training, interval training, etc. may be incorporated into the program. I make training fun and affordable with an outstanding positive attitude to keep you on track for goal/goals.
Training Philosophy
I have a great passion for fitness and helping others achieve their fitness goals. I love helping and educating individuals about health and wellness. I have been in the fitness business for 18 years. Training can be most anything: Boot Camp- weight training, pilates, yoga, diet, motivation to exercise, cardio, kickboxing, meditation, stretching, pool aerobics, and pool therapy. Tai chi, Balance, chair exercise, prenatal,
Education
Internship with City of Clearwater-Therapeutic Recreation Four year Degree: BA-Human Development with speciality in Leisure and Recreation SPECIALITIES-UNIQUE SITUATIONS DISEASES,etc. Continuing Education throughout the years with Fitness Associations /workshops/Conventions.
Bio
I have 18 years of health/fitness experience. I have been a personal trainer for 3 years. I was certified about 8 years ago with clients for a short time while working full time. Fitness has been a part of most of my life. Started at the age of 6, twirling the baton. Heavily involved with this til age of 18 as jr high majorette, high school majorette, traveled with a twirling group and competed.Twirled fire batons. Started doing aerobics at age 18 and got certified a little later with water aerobics for the first 8 years only. Then progressed into other specialties. I currently am self employed and work at various places doing a variety of fitness classes and training my own clients in their homes. I have been in management with health/wellness/fitness for employees in a major corporation, rehab experience with clients, Athletic events with start up magazines, etc. I am easy going but like to work hard to get results for my clients.