THE PERSONAL TRAINER CONNECTION!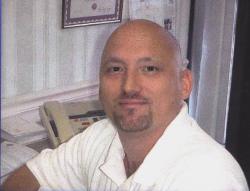 Tallahassee's BEST mobile personal training!
Lynn Thompson -
850-980-3961
Tallahassee, Florida 32308
Trains both men and women.
contact trainer
Specialties
Strength Building
Weight Loss
Rehabilitation
Pilates
Aerobics
Body Sculpting
Training Locations
home
studio
work
outdoors
Certifications
NESTA ACSM NFTA AMFPT YMCA
Personal Trainer Overview
Lynn Thompson is one of Florida's most respected Personal Trainers. For the past three years, Lynn has been improving the lives of many dedicated Tallahassee residents. He is selective about the clients he accepts into his training program. He admits that the client is responsible for achieving the results, and that it takes an enormous about of discipline and determination. But Lynn's techniques soften the blow by making workouts fun, challenging, and a bit different each time.
Training Philosophy
Lynn will increase the benefits of exercise through a multi-disciplinary approach. The Body Dynamics Power program offers the following: Fitness Assessment An important part of any responsible training program, a fitness assessment objectively measures your current level of physical fitness. Without an effective fitness assessment, growth cannot be accurately measured. Lynn's fitness assessment incorporates many different methods to achieve accurate results. The Fitness assessment measures: Body fat BMI (Body Mass Index) Physical endurance Muscle strength Blood pressure
Education
Lynn began his career as a personal trainer in the early 1990's after hiring a trainer for himself and became interested in helping people reach their goal. He has worked as a trainer and as a program director in fitness centers and wellness centers all over the state of Florida. He has been co-owner of a successful medically based personal training studio as well as the fitness director for the YMCA and Lifestyle Family Fitness, Downtown Athletic Club and the Orlando Fitness and Racquet Club. In 1996, Lynn was on the state Department of Education's committee for health promotion programs (HPPC). He was instrumental in developing and implementing the department's annual health fair which attracts more that 150 vendors and guest speakers. Currently, Lynn is the owner of "Body Dynamics Fitness and also serves as the regional program director of the "National Fitness Trainers Association, Providing personal training, nutrition and fitness education workshops and seminars.
Bio
Lynn specializes in strength training, post rehabilitation, and healthy lifestyle motivation. Having participated in high school athletics playing basketball and football Lynn has been involved in fitness and athletics most of his life.