THE PERSONAL TRAINER CONNECTION!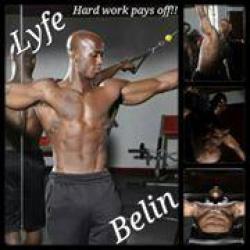 Survival over Success
Lyfe Belin -
(214) 484-7145
Dallas, Texas 75241
Trains both men and women.
contact trainer
Specialties
Strength Building
Body Building
Weight Loss
Rehabilitation
Yoga
Aerobics
Body Sculpting
Spiritual
Training Locations
home
work
gym
studio
outdoor
Certifications
-ISSA Certified CPR Certified
Personal Trainer Overview
I love the industry and also making a difference in life. Starting with the mind first, we must tell ourselves that we are able. Able to do any and everything we put our minds to. Besides being the way of life, staying healthy and fit will lead to a longer prosperous life. With people being my passion, I value their success over the price of any session. "Survival over Success"
Training Philosophy
"Living is a State of Mind". My outlook on the whole health and fitness aspect in life is that it's the cornerstone to a positive life. Being both physical and spiritual fit will ensure that you're built to outlast. I love to train in all climates and weather. Having many different styles of training, there will always be a few the fits every individual. From cardio in the form of dancing to weightlifting in the form of your own bodyweight, this is our life and we must live it with no regrets. Just being here on earth with others is plenty of motivation for me to empower those around me.
Education
-Culinary Arts Major -International Sports of Science Association
Bio
I'm a Texas born, Hawaiian raised man of God. I've been blessed to have the opportunity to have become a fitness trainer. Always having had the love for fitness, my background is well diverse in the field. After my completion with sports, I followed my passion in life. Being able to help influence those around me while leading by an example is what life is about to me. Always remember, "The only reason we start, is to finish strong".