THE PERSONAL TRAINER CONNECTION!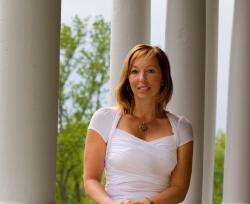 Specialties
Strength Building
Body Building
Weight Loss
Body Sculpting
Figure and Bikini division compe
Certifications
I am a member and graduate of the ISSA. I'm a certified fitness trainer and am a specialist in fitness nutrition.
Personal Trainer Overview
My training method includes working the body in three major areas, weights, cardio and stretching. I believe training can be efficient and effective. Who has three hours a day to spend in the gym? You will work hard but you will see the results you desire. Your diet will consist of healthy, whole foods but it will be a diet you can keep for life without feeling deprived. Make the commitment and you will succeed. Remember, it's never too late to be what you might have been.
Training Philosophy
Training makes me healthier, stronger and more fit. It increases my self esteem and makes me a better version of myself. And who would want to give up that? But what really motivates me is inspiring other people to become a better version of themself. Proper training and diet work together to help your body reach the goals you have set. Good training consists of weights, cardio and stretching. Your diet must be something you can do as a lifestyle, not the, on and off a diet yo yo routine. As your coach I will guide you in all the aspects or training and diet. I'll be there to motivate you and help you through any sticking points or obstacles that get in the way of your success. I'll be there for you as a guide, an accountability partner and motivator.
Education
I specialize in women's fat loss. I know the importance of building a lean, fit, feminine body. I also specialize in training women for figure and bikini division competitions.
Bio
I started my life of health and fitness over twenty years ago shortly after a job change. I went from an active job to a desk job and over time my body began to change for the worse. I knew I needed to make a change with my diet and my exercise if I wanted to get back to how I used to look and feel. I read and studied all that I could get my hands on. I reached my goal but looked around and saw others struggling with the same kind of problems. I got my certifications and now I coach others and help them achieve their goals. It's so rewarding to know I have helped change someone's life for the better.