THE PERSONAL TRAINER CONNECTION!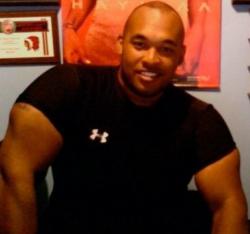 Burn Fat, Build Unmatched Pound for Pound Strength, Learn Practical Self-Defense, Attain the confidence of a Leader!
Linnie Smith -
610-742-4276
http://www.extonpersonaltraining.com
Coatesville, Pennsylvania 19320
Trains both men and women.
contact trainer
Specialties
Strength Building
Body Building
Weight Loss
Aerobics
Kick Boxing
Body Sculpting
Martial Arts Training
Training Locations
home
gym
studio
work
outdoors
Personal Trainer Overview
-Confidence -Flexibility -Better Concentration -Better Quality of Life -Self Discipline -Stronger Body -Decrease Body Fat
Training Philosophy
If you can renew your mind and your body, you will become a stronger, healthier and more functional "YOU"
Education
I have trained with professional athletes and body builders for 15 years and i have gained one on one practical experience through the years. I also wanted to gain more knowledge with the technical aspect of fitness like anatomy and body mechanics. So I got certifications through ISSA as well as a certification in Hard Style Kettle bell Training.
Bio
Linnie Smith is a certified personal trainer and certified Hard-style Kettle-bell instructor. Fitness has always been a part of his life, he began weight training at age 14 and martial arts training at the age of 6 under Grandmaster Goh, He currently holds a 1st Dan Black belt. Linnie has been training in martial arts for nearly 15 years with experience in Tae Kwon Do, Karate, Hapkido, Tang Soo Do, Brazilian jiu Jitsu, MMA, and Muay Thai Kickboxing. He Has been instructing/training Adults and Children for two years now and uses his own personal experiences with weight gain to prove that everybody can become a healthier and more mentally focused person with hard work and perseverance.