THE PERSONAL TRAINER CONNECTION!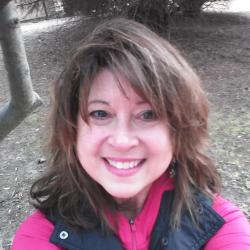 Specialties
Strength Building
Weight Loss
Body Sculpting
Certifications
ACE Advanced Health and Fitness Specialist; ACE Personal Trainer; Member of IDEA Health & Fitness Association; TRX CORE Trainer- Yellow Level; Licensed TABATA Bootcamp Trainer
Personal Trainer Overview
I've been a trainer since 1997, and I've seen fads come and go (and some current fads are quite scary). I'll help you navigate the fitness landscape and find a workout routine that works for you. We'll incorporate the BEST of the current fitness tools and trends and eliminate the unsafe, the scary, and the crazy. One of my specialties is post-rehab exercise, so if you're dipping your toe in the water after physical therapy, I can help you get back in the game.
Training Philosophy
I believe that fitness is for everyone, and it shouldn't be intimidating! I've worked in gyms, and I soon realized that some people are "gym averse". Not everybody likes working out in a large, noisy, crazy place with hulking machines and scantily clad people. And that's OK! I specialize in making the whole workout experience fun, non-threatening, and instructional. I even take clients outdoors. Movement should be as easy as breathing; it's something our bodies are meant to do. Let me help you break through the barriers keeping you from the fit, healthy person you want to be!
Education
B.S., Business Administration - Penn State; Additional Coursework in Psychology - University of Maryland University College
Bio
I was not an athletic kid growing up; quite the opposite, in fact (last picked for teams in Phys Ed so much, it was a running joke- thank goodness I could win spelling bees!) I was introduced to strength training through a Phys Ed class at Penn State (and if I could have gotten out of taking college Phys Ed class, believe me, I would have!!) The class was Women's Weight training, and a skillful and understanding instructor catalyzed my new love of fitness. This was a big deal for me. I started to LIKE exercise, and I especially liked the results. After college, I worked in a variety of desk jobs in the information technology field. I continued lifting weights and doing cardio to de-stress after work. Eventually I realized I liked working with people more than machines, and, long story short, got certified as a Personal trainer. My personal experience gives me empathy for what people go through when they feel weak, tired, and out of shape. And I can tell you this- the FIRST thing you'll feel when you start exercising is new energy and a new lease on life. Call me for a free consultation, and see how I can help.