THE PERSONAL TRAINER CONNECTION!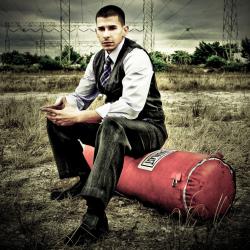 Specialties
Strength Building
Body Building
Weight Loss
Boxing, group training
Training Locations
home
work
gym
studio
outdoor
Certifications
Fitness Institute - CPTS
NSCA-CPT
USA Boxing Coach LV2
AHA-CPR & AED
Personal Trainer Overview
As a personal trainer and fitness professional, my objectives are to provide the best possible instruction to help my clients achieve their goals in the safest way possible, to maintain an ongoing commitment to bettering the lives of others, and to stay current with the latest research and developments within the fitness industry.
Training Philosophy
Typically, society only concerns itself with health and fitness when it is in jeopardy. There is nothing more valuable to us then our health and physical well-being, yet we take it for granted. Sadly, we have grown accustomed to the quick fix and look for instant solutions to problems when they arise, rather than taking preventative steps to safeguard our health and fitness. In the end we blame ourselves for failing the diet or regimen that the infomercials promised us were the answer to all our ailments. But its not your fault - it never was. Diets don't work and crazy fitness regimens were designed to make you fail, period. Leo Tobares is committed to helping its clients live a legacy of health and fitness, developing a greater appreciation of what can be achieved in order to add years to one's life as well as life to one's years.
Education
Over 11 years in the professional Boxing and Fitness industry training both Professional athletes and boxing enthusiast a like. In addition to his personal experience as an athlete, Leo Tobares has extensive knowledge and understanding in the areas of Exercise Physiology, Fitness Testing, Strength and Conditioning, Functional Training, Nutritional Education and Weight Management. "Not Just Certified, But Truly Qualified"
Bio
"Coach Leo has been my trainer for over 5 years now and has worked my corner in several boxing shows. Not only has he completely transformed me to be an elite athlete but a Florida Golden Gloves Champion." -Jeff Souffrant, 2x Florida Golden Gloves Champion, 3x FL State PAL Champion ----------------------------------------------------------------------------------------------- Leo is far away the best personal trainer that I have ever trained with. He has all the tools to make your body a machine. Leo knows the key of exercises and diet that have changed my body drastically in less time that i thought. I Highly recommend him! -Leonardo Wejner, Broker ----------------------------------------------------------------------------------------------- "I feel honored and privileged to have you as my trainer and friend. You keep me motivated and energized and I appreciate the creativity and planing that you put into every workout. Your dedication and commitment to the profession are what sets you apart from every other trainer out there." -Chris Hill, Realtor ----------------------------------------------------------------------------------------------- "My name is Donato De Martiis, I am professional boxer, my conditioning trainer is Leo Tobares, he is the person that gets me ready for my fights. Leo Tobares is a very knowledgeable Trainer in terms of nutrition, conditioning and the science of boxing, he is a trainer who knows how to achieve the goals of an athlete, he is persistent and he knows how to adjust to the needs of every single athlete. I'd like to add that he has also knowledge in sport psychology; he knows how to keep an athlete mentally sharp and mentally take him to next level. My experience is extremely satisfactory, I would certainly refer him to any professional athlete of all kinds and also to any person who wants achieve personal objectives such as: getting back in shape, get stronger or simply be advised in what diet to follow." -Donato De Martiis, Professional Boxer ----------------------------------------------------------------------------------------------- "Leo is a great trainer and coach! Since I started training with him I lost 31lbs to get in shape for boxing and he's coached me through several victories in the ring. His programs developed my conditioning, speed, and strength. He always keeps the exercises challenging and everything he incorporates into the workouts are there for a reason. Leo is a wonderful trainer to have at your in your corner whether you're looking to compete or just get in shape!" -Pia Abraham, National Golden Gloves Champion (n), Florida Golden Gloves Champion (n), State PAL Champion (n) ----------------------------------------------------------------------------------------------- "Leo is an amazing fitness trainer and an inspiring person to be around deserving of the highest possible recommendation. I like the expertise he offers – professional, intuitive, well rounded, motivator, walks his talk—he embodies all of these traits. He is knowledgeable in his field, organized and keeps the classes moving. The workouts are effective in engaging every muscle in your body and you can really feel that it's working. I always feel challenged, but never pushed – it is a delicate balance that he understands. He pursues excellence for himself and his clients, but does so in an unpretentious manner that makes working out a true pleasure. Overall his method of training is very professional, technical and loaded with energy. He's always friendly, on time and incredibly reliable." -Lua Missaghi, Practical Nurse