THE PERSONAL TRAINER CONNECTION!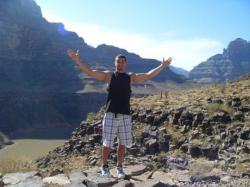 Personal Training, Get Results, Change Your Life
Kyle Crandall -
315-527-8906
Albany, New York 12207
Trains both men and women.
contact trainer
Specialties
Strength Building
Body Building
Weight Loss
Personal Trainer Overview
One step at a time. First we will meet to determine your health status and any possible concerns that we may need to take into consideration when designing your personalized fitness program. During this meeting we will establish your fitness goals which will also help us to determine your fitness program. Next we will gather information that will provide us for comparison as we progress in weeks of training. Also we will determine days and times that you are available to dedicate to exercising each week. The information gathered will help to design the personalized fitness program. When all finished your program will be ready to go and executed. We will begin training in our first session which will not only be a physical workout but will also be educational session to help you understand what exercises we will be doing and why we will be doing them. All following session will be designed to push you to your physical and mental limits while executing correct form for quick results.
Training Philosophy
Enough with going to the fitness center and not getting results. It's time to stop going through the motions and start actually challenging yourself. That's what I am here for. Correct form is a must when in the gym. When not using correct form you are only hurting yourself. Beyond the physical part of the exercise I will push you to limits that you have not believed possible. With the combination of the two and the dedication from you we will see amazing results.
Education
Bio
My name is Kyle Crandall. I am a personal trainer and received my certification from the National Federation of Profession Trainers. A little bit about me, I am currently in my second year at Albany Law School. I graduated Ithaca College in May 2009 where I played football for four years. During the spring of 2009 I trained and accepted an invitation to try out in front of NFL scouts at Lucas Oil Stadium in Indianapolis. I like to train myself and love to pass on what I have learned to educate others throughout their training process. I know what it takes and how to gain strength as well as the proper prescription for weight loss. I like to challenge and encourage people to cross the mental barrier allowing them to accomplish things they never thought they were able to. I believe that the physical exercise is only half the battle and training the mind to push yourself to new levels is the forgotten half. We will overcome this and accomplish your fitness goals whatever they may be.