THE PERSONAL TRAINER CONNECTION!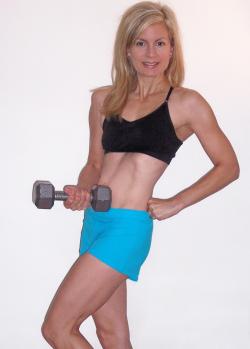 Affordable and convenient personal training in Chestnut Hill and southeastern Montgomery County
Kristin Thompson -
(215) 896-4740
http://www.trainwithkristin.com
Flourtown, Pennsylvania 19031
Trains both men and women.
contact trainer
Specialties
Strength Building
Weight Loss
Aerobics
Body Sculpting
Certifications
W.I.T.S. personal training certification 2007 A.F.P.A. nutrition consultant certification 2007
Personal Trainer Overview
I am a Certified Personal Trainer in Wyndmoor, PA also providing services in eastern Montgomery County, including Flourtown, Oreland, Chestnut Hill, Lafayette Hill, Glenside, Plymouth Meeting, and Mt. Airy. I have been a lifelong fan of fitness and exercise. In 2007, I was able to take my passion for fitness and share my love of exercise with clients when I became a certified personal trainer. For the past seven years, I have helped clients transform their bodies and their lives through challenging and fun workouts.
Training Philosophy
My fitness programs are designed to provide clients with a full body workout for maximum fitness potential. Workouts include a combination of strength training with weights and bands, and cardiovascular interval training such as jumping jacks, mountain climbers and squat thrusts. By combining short, high intensity work periods with little rest between exercises, your strength, power and cardiovascular endurance will improve and you will maximize calorie burn during and after the session. With this high intensity interval training, you will improve your muscles' ability to use energy and get better results over time. The final portion of the workout is dedicated to core training, such as planks and crunches. Every workout session is a combination of different exercises to avoid the "plateau" effect, and to help clients successfully achieve their fitness goals. I also provide motivation and encouragement to clients in a non-judgmental way. Please call me at 215-896-4740 for a free fitness consultation.
Education
Gettysburg College, B.A.
Bio
I was recently featured in Oxygen Magazine February 2014 edition in the Future of Fitness section. In this article, I shared my philosophy on the importance of exercise and eating well to achieve total wellness and health.