THE PERSONAL TRAINER CONNECTION!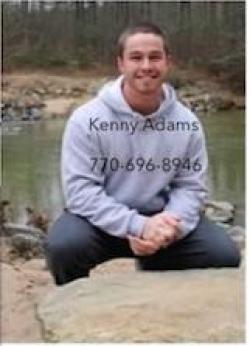 Master Trainer
Kenny Adams -
(770)696-8946
Kennesaw, Georgia 30152
Trains both men and women.
contact trainer
Specialties
Strength Building
Body Building
Weight Loss
Rehabilitation
Yoga
Pilates
Body Sculpting
Athletic Development
Personal Trainer Overview
Welcome to the start of ETERNAL fitness! I am here to help you meet your fitness needs. I am are focused on providing high-quality service and customer satisfaction - I will do everything I can to help you create a healthy lifestyle to reach your goals. With a variety of programs to choose from, Im sure you'll be happy working with me. There's much more to come!
Training Philosophy
Kenny Adams- Master trainer and Body Builder with more than 10 years of personal training experience. I have trained from Miami Florida to Knoxville Tennessee and its my passion watching people change, succeed and develop a love for fitness. I have trained every type of athlete one-on-one but also have a passion for bootcamps and creating a fitness family, so come join me and my family!! I will make you feel at home, while we work your body to its limit.
Education
Exercise Health Science Major
Bio
I fell in love with fitness when I was in high school. I was always a larger child and at my largest I had a 44 inch waist. I was ashamed to go to the pool. Then I had a dear friend invite me to the gym and even purchase a gym membership for me and help me learn how to workout. Since then I have had the passion to share my love of fitness with everyone. Its my passion and I will struggle with you to make your life better and more enjoyable through fitness.