THE PERSONAL TRAINER CONNECTION!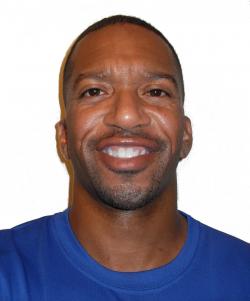 Dayton, Ohio mom loses 35 lbs in 12 weeks!
Kelvin Love -
(937) 219-4588
Dayton, Ohio 45424
Trains both men and women.
contact trainer
Specialties
Strength Building
Body Building
Weight Loss
Body Sculpting
Weight Loss Programs (I serve gl
Training Locations
home
work
gym
studio
outdoor
United States
Certifications
Certified Personal Fitness Trainer (PFT)
Fat Loss Specialist
Weight Loss Consultant
Nutrition Specialist (NS) Certified Hypnotist
Master Hypnotherapist (MHT)
Organizational Leadership Major
Author "28 Days to EXtreme Fat Loss"
Personal Trainer Overview
Why should you start a program with me? You should start a program with me to achieve the results you truly desire, to receive lots of motivation and encouragement, from someone who has an impressive background in fitness, nutrition, and exercise. I am very patient with clients but I do push people to accomplish their goals. I train clients at their appropriate fitness levels and help them push beyond their comfort levels into new dimensions of achievement, success, and happiness.
Training Philosophy
I am my client's personal coach. "My clients will get treated like a movie star with me." I am very dedicated and devoted to all of my clients. I am going to help you achieve your fitness and weight loss goals. I will be your motivation, your encouragement, and your inspiration. If my clients don't believe in themselves, as long as they "believe in me" then we will achieve their goals "together". There is a BIG difference between who you are now and who you really can be when you put your mind to it. Something that I live by and always tell people "You Deserve Happiness". My website is EXtremeforLIFE.com
Education
Home Fitness Professionals Association, Leadership major at Wright St University, I have also attended weekend workshops on personal training. I body build myself and train at my private facility in my home. My website is EXtremeforLIFE.com or Facebook.com/EXtremePersonalFitness
Bio
I spent 10 enjoyable years teaching our United States Military, Armed Forces, and Government Personnel, the principals of burning fat, weight loss, eating healthy, good diet, vitamins, minerals, sports nutrition, herbal remedies, and overall wellness. Hello all of my military and government friends around the world! The people of the United States appreciate all that you do for our country. For those who are deployed overseas, we miss you and respectfully welcome you home with open arms.