THE PERSONAL TRAINER CONNECTION!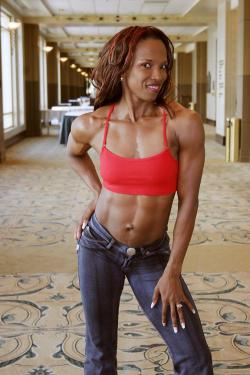 Healthier Life = Happier You
Karen Williams -
(336) 645-4055
Charlotte, North Carolina 28277
Trains both men and women.
contact trainer
Specialties
Strength Building
Body Building
Weight Loss
Rehabilitation
Aerobics
Kick Boxing
TAE BO FITNESS
Training Locations
home
work
gym
studio
outdoor
Certifications
AFAA: Certified Personal Trainer (CPT) ISSA: Certified Personal Trainer (CPT) ISSA: Specialist in Exercise Therapy(SET) Tae Bo Fitness (Billy Blanks) DOTFIT in Nutrition UWI: Art & Science of Coaching Lifestyle Coaching (DSW) Motivating People into Fitness (DSW) CPR/AED (Red Cross)
Personal Trainer Overview
Passionate about what I do, as a PT it's just not about my client's fitness goals, its about motivating them to be a better, stronger, healthier all round and fit individual. Proper form and execution of all exercises is VERY important to me. So even if I am no longer your trainer I am confident that on your own you can perform any exercise correctly and safely in any environment.
Training Philosophy
My Fitness Motto: Treat Your Body Right and It Will return The Favor. I learn my clients, I get to know their personality. So I know who and when to push and when not to. My client always say that I believe in them more than they do in themselves. (www.thumbtack.com) clients reviews
Education
UWI: University of the West Indies (Trinidad & Tobago) Penn Foster Career School Most of my education was done in Trinidad and Tobago, before migrating to USA in 2005
Bio
My mom is the reason I have a fitness Lifestyle today. I started at age 16 and still continue today. I am a IFBB Professional Athlete for over 14 years (www.karenwilliams.org) Most of my clients says that they first feel intimidated when they first meet me, but from the first words out my mouth they feel relax and comfortable, but they ALL will say that "Karen can workouts challenges you, but she cares" she will kick your butt, but you will get the results you want and she does it with a Caribbean smile on her face that makes you feel good when its all over. When my recent client told me I changed his life, that's what is success to me. He was 511lbs bed ridden first, then prayed and ask God to help him...he willed himself into his mobile chair for years, came into the Rush Fitness Complex Randleman Road Greensboro at 486lbs could hardly walk 10 steps but he tried his best, he would come every day in the gym and do the same exercises day in and out, I will look at him from a distance and admire him for trying then one day after seeing him do the same thing over and over I walk up to him and showed him a few new exercise then and changed it so he had a variety and I started training him for free. His birthday goal was 40lbs but I had my own goal in mind (50lb) for him so when his 50th birthday came along he was happy because he lost 50lbs in 5-6 months of me just helping him. Now Richard can drive himself around, I continue to train him when I can. I would take him to the stadium and have him walk and run a little and he inspire so many and still do to this day. He is 330lbs now and still at it. We are now great friends and he always thanks me for giving him his life back (if you would like to talk with him send me and email) Like him and many others is the reason why I do this. It's my passion and my gift from God to bless and help others to live a long and healthy life for as long as I can. So if your goals are to increase your Cardiovascular Fitness, or Functional Fitness, Flexibility, Core strength, Weight Loss, Compete in NPC/IFBB or just be Tone and Conditioned please give me a call.