THE PERSONAL TRAINER CONNECTION!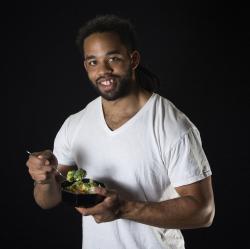 Certifications
NASM USAW USATF USA Boxing USAPL
Personal Trainer Overview
I come from a wide range of sports, and as a NASM certified personal trainer, I treat every client...personally. Everyone is different and everyone has different goals. We will discuss your goals and design a program so you can be the best you can be.
Training Philosophy
I can't workout for you...I can't eat for you...I cant stop you from quitting. At the end of the day, YOU are the one that has a goal in mind that needs to be met. I train my clients with scientifically proven methods that I learned over the years from experience, extensive research and experimentation. I can show you the way to be great! I will be your biggest fan and motivator in your journey. You just being there excites me because it lets me know that you actually care about yourself and want to change yourself for the better.
Education
Track & Field Powerlifting Boxing Body Building Weight Loss Speed/Agility
Bio
I have always been very athletic since I was a kid. In high school, I played football, ran track and played basketball for a youth team. After I graduated, I went to Morgan State for track and cross country. After obtaining my bachelors, I started boxing and powerlifting for USAPL. I use my experience in these sports to train my clients.