THE PERSONAL TRAINER CONNECTION!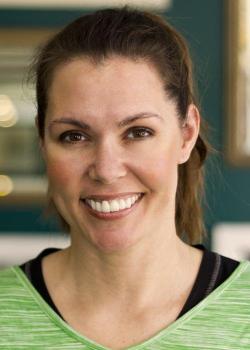 Certifications
Josha is certified in Personal Training by the American Council on Exercise (ACE) and National Strength & Conditioning Association (NSCA-CPT). She also has a Certified Strength and Conditioning Certificate (NSCA-CSCS)
is a Certified Sports Nutrition Consultant (AFPA)
and is a certified USA Weightlifting Coach.
Personal Trainer Overview
Sustainable strength training is the key to long term fitness.
Training Philosophy
Functional strength training
Education
UWM 1997
Bio
osha (Krueger) Kruvand has over 15 years of experience as a professional Personal Trainer in strength and fitness training. Growing up in St. Charles, IL, soccer was a priority for Josha all the way through high school, as she represented her hometown in the Illinois IHSA State Championships, winning twice, in 1992 and 1994. She went on to play Division 1 Soccer at the University of Wisconsin-Milwaukee, where her #22 Jersey is retired. As team captain, Josha lead the UWM Panthers to their first ever NCAA Tournament appearance in her first year. After college Josha continued to play semi-professional and professional soccer. She helped lead the Chicago Cobras to a W-League National Championship in 2000, and after relocating by way of the WUSA draft, Josha helped the Boston Renegades capture their own National Championship. With Boston, she was awarded the W-League's "Defender of the Year" accolade. In 2013 Josha was inducted into the University of Wisconsin-Milwaukee Athletic Hall of Fame. Upon retiring from pro soccer, Josha returned to Chicago to train high school and college athletes in speed, strength, agility, and performance training. While coaching soccer at Aurora University, she realized that her real passion was to help people set goals and achieve a truly exceptional level of personal fitness. A natural fit, she then became a full-time personal trainer. As owner of Kru Strength + Fitness, Josha brings her years of Personal Training experience, as an athlete and a student of fitness, into one comprehensive environment that will allow anyone to achieve their maximum potential.