THE PERSONAL TRAINER CONNECTION!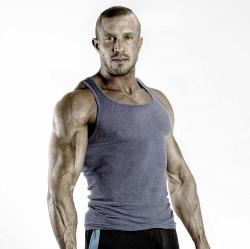 Jonathan Mielec, Master Trainer - Norwalk CT
Jonathan Mielec -
(203) 842-8742
Norwalk, Connecticut 06854
Trains both men and women.
contact trainer
Specialties
Strength Building
Body Building
Weight Loss
Rehabilitation
Body Sculpting
Nutritional Programing
Training Locations
gym
27 Lois Street, Norwalk CT
Certifications
ISSA Certified CPR/AED Certification
Personal Trainer Overview
I'm a Certified Fitness Trainer through the International Sports Sciences Association (ISSA), as well as a top placing NPC Physique Class Competitor and Powerlifter. With over a decade of personal and professional experience, and a focus on results based training and diet programs, we'll take the most efficient path to reaching your goals, while developing sustainable habits that stay with you for a more healthy life and the body you want. Find more information and links to client reviews at http://formfromfunction.com
Training Philosophy
My training philosophy revolves around results based programs built for each individual's unique variables, and phasing these programs to include cycles and phases that follow the most efficient path towards results and most importantly working towards a program that is sustainable and leads to life long changes and permanent results. My training specialties include: -Contest prep, both nutrition and training program design, for NPC Bikini, Physique, and Bodybuilding classes, as well as Powerlifting and Strongman competitors -Sustainable diets that are manageable and integrate with your lifestyle without overwhelming it. Diet programs emphasize habits that are feasible, and even enjoyable, to continue indefinitely. Other attributes of the custom diets prepared are the elimination metabolic damage, adrenal fatigue and failure, negtive hormonal changes, and post diet rebounds; really what every responsibly designed diet should be but so often falls short of. -Compound closed chain movement based training programs that are truly functional, developing usable real world strength, conditioning, and functional stability, with outstanding aesthetic results (that's where the namesake "Form From Function" came from) -Weak point training is a main component of training program design. Instead of a cookie-cutter training programs, all programs address the fluctuating individual strengths and weaknesses that are constant in clients, and often change based on many factors. Whether it's muscular imbalances, leverages (torso length to limb length, etc…), or past injuries that are all but forgotten but still impacting movement, addressing these factors dramatically increase results across the board. Find more information at my website at http://formfromfunction.com/about
Education
I'm a Certified Fitness Trainer through the International Sports Sciences Association (ISSA), and have over a decade of experience, both personal and professional.
Bio
I'm a Certified Fitness Trainer through the International Sports Sciences Association (ISSA), as well as a top placing NPC Physique Class Competitor and Powerlifter, with over a decade of personal and professional experience. Find more information and client reviews on my website at http://formfromfunction.com/about