THE PERSONAL TRAINER CONNECTION!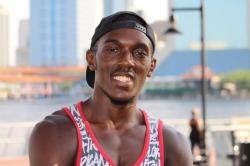 Get the results you've wanted!
John Boyd -
(904)444-1608
Jacksonville, Florida 32216
Trains both men and women.
contact trainer
Specialties
Strength Building
Body Building
Weight Loss
Rehabilitation
Aerobics
Kick Boxing
Body Sculpting
Training Locations
home
work
gym
studio
outdoor
Personal Trainer Overview
When someone is looking for results they are looking for direction and real outcomes. That's what my training comes down to. No one wants to waste their time. Your time is valuable, and I turn that time into the results you want.
Training Philosophy
We often hear at the end of a person's life what they wished they would have accomplished. I've always pushed myself and those I've trained with to perform without limitation and instead motivation. When you train with me I expect effort, determination, and belief. Reason, because those are the things that get you results. With my training you don't only lose weight or gain muscle, I prepare your body to be adaptable, and to quickly learn to meet any challenge. After all being in shape is determined by what you're prepared for. I have movement experience in a wide range of training including performance, weight, movement, group fitness, martial arts, acrobatics, and yoga. What did I learn from all of these: that they take effort, determination, and belief. I've had days where I wanted to give in, where my schedule may have made workouts next to impossible but I pushed through. That is why I am here for you, with everyone I work with I see their potential and the workout is designed for you. I am not going to just help you reach a goal I am going to teach you how to crush every single one, whether it be in fitness or life. In workouts my goal is not to exhaust you but to instead teach you to keep that inner fire burning and help you exceed limits and ailments.
Education
A.S / B.S also CPR training
Bio
My name is John Boyd and my journey began 4 years ago in group fitness. I got my start teaching hip hop classes each week at Latin Danz Fitness. As time went on I began helping students identify their fitness goals and create a plan of action. Thus the dream was born. Early on the majority of whom I worked with were performers but as I trained futher I began to work with athletes,physicians, office workers etc. I started to expand my network and reach to other fitness professionals which has led me to where I am now, Superior Body Sculpting. Of all the things that have remained the same my passion for health and fitness has increased.