THE PERSONAL TRAINER CONNECTION!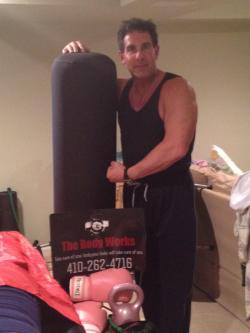 Specialties
Strength Building
Body Building
Weight Loss
Rehabilitation
Certifications
A.A.A.I./I.S.M.A.
C.N.A.
L.M.T.
( lic. massage ther)
. On board a committee
at work
S.P.L.A.T. Bodybuilding competitions. Nursing competencies. CPR cert.
Personal Trainer Overview
I VE COMPETED IN SHOWS BEFORE. HAVE TROPHIES TO PROVE IT. I ALSO TRAIN TO ONES FITNESS LEVEL. GREAT WITH MOTIVATION. I EXPLAIN TO FOLKS WHY THEY ARE DOING SOMETHING. I'M HANDS ON KINDA GUY. DON'T JUST STAND THERE AND WATCH. I ALSO STRIVE FOR RESULTS.
Training Philosophy
"TAKE CARE OF YOUR BODY, AND YOUR BODY WILL TAKE CARE OF YOU"." ACTIONS SPEEK LOUDER THEN WORDS"." NO PAIN, NO GAIN". "YOU GOT TO WANT IT". " MIND INTO MUSCLE". "ONLY THE STRONG SHALL SURVIVE".
Education
CNA, BALTIMORE SCHOOL OF MASSAGE- A.A. DEGREE. NURSING COMPET. REHABILITATION BACKGROUND.
Bio
I STARTED OFF AS A TEENAGER, LIFTED FOR SPORTS, BEEN DOING EVER SINCE. COMPETED IN MANY B.B. COMPET. DONE SOME POWERLIFTING OVER TIME. REHABBED EVERY PART OF MY BODY SO FAR. HELPED FOLKS LOOSE WEIGHT AND TONE UP AND FEEL BETTER ABOUT THEMSELVES. I SET UP A PROGRAM TO MEET THEIR GOALS..... : )