THE PERSONAL TRAINER CONNECTION!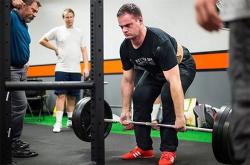 Starting Strength Coach Jeremy Tully
Jeremy Tully -
(510) 578-3999
Oakland, California 94609
Trains both men and women.
contact trainer
Personal Trainer Overview
I offer small group classes and private 1 on 1 coaching in the barbell lifts according to the Starting Strength method. Strength training is the most important thing you can do for your health, quality of life, and athleticism. Becoming stronger makes everyday tasks easier, protects against heart disease, obesity, and diabetes, and makes you faster and more powerful in sports. Those interested in training with regular and consistent coaching should check out my Novice Lifter strength training class, which is capped at 8 people per class in order to maintain a high quality of instruction. Visit my site for more details.
Training Philosophy
I am a firm believer in barbell training as the single best tool to build raw strength -- the most important physical quality you can build, and the foundation of health, fitness, and athleticism. Training should be fun -- and for most people, the fun of training is largely determined by the results it yields. Few things are as enjoyable or rewarding as seeing your squat strength literally double in a matter of weeks. Effective training is its own motivator. When you tangibly feel yourself becoming stronger from one day to the next, you will find it hard to stay away from training. If you have tried in the past to become stronger but failed, it is not for your lack of your effort. It is because the training routine you tried was not effective. Do not abandon what you really want and settle for something less! Contact me for a free consultation, and I will be happy to talk to you about how barbell training can change your life.
Education
B.A., International Studies - Johns Hopkins University
Bio
I have been training and coaching others in the barbell lifts for several years. I am certified as a Starting Strength Coach -- a rigorous and hard to attain certification. I initially sought out barbell training because I was dissatisfied with my results from other training methods. It is no exaggeration to say that within one to two months of beginning the Starting Strength program, I made superior gains in strength and muscle mass than I had in years of the exercise machine merry-go-round. My only regret is that I did not begin sooner! A teacher by nature, I love coaching others on the barbell lifts -- and I especially love introducing people to the lifts for the first time. Please contact me if you are interested in starting your strength journey, and I will be happy to consult with you.