THE PERSONAL TRAINER CONNECTION!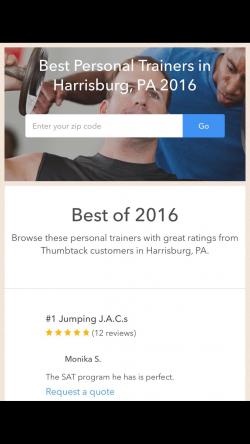 Jumping J.A.C.s
jeremy kring -
(717) 312-7970
Harrisburg, Pennsylvania 17101
Trains both men and women.
contact trainer
Specialties
Strength Building
Body Building
Weight Loss
Body Sculpting
Certifications
Certified Fitness Trainer
ISSA Certified Speed Specialist NASE
Personal Trainer Overview
I have a Master's Degree CalU, a Personal Fitness Trainer certification from the ISSA, and a Speed Specialist certification from NASE, and am a former United States Marine. My service includes: (1) custom program design for weight loss, sculpting, muscle growth, and sport performance. (2) I also provide online support, and access to fitness programs, online coaching, and meal plans.
Training Philosophy
Fitness is a gateway to much more than physical health. Fitness is a gateway to increased self image which means increased confidence. It is also a gateway to disciplining the mind, which results in reduced stress, and a sharper intellect. Fitness is your gateway to a better life!
Education
BS from Duquesne University MS Exercise Science and Health Promotion
Bio
My name is Jeremy. I am grew up on the Hershey/Harrisburg Area, served in the Marine Corps for 4 years and am full time father to 3 boys. After graduating high school I joined the Marine Corps. Getting promoted ahead of my peers I quickly became the training Non-Commissioned Officer over the Marines under my charge. In this capacity I have trained in many different climates and conditions and have become very attuned to how hard to push in training to get optimal results and at what point to stop. Training is useless if you become overly sore, or hurt yourself. After the Corps I went to college earning a Master's in Exercise Science and Health Promotion. I spent some time in the corporate world and understand it well, however my passion always laid in training, and therefore decided to work for myself as a personal trainer. I am a certified personal trainer and enjoy doing this second only to being a father. I enjoy training individuals and seeing these individuals make progress, and watching their confidence increase, and seeing how much happier they become as a result of what they accomplished. I feel very privileged to be a part of this journey.