THE PERSONAL TRAINER CONNECTION!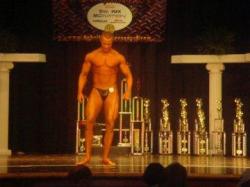 Specialties
Strength Building
Body Building
Weight Loss
Rehabilitation
competition prep, crossfit, toug
Personal Trainer Overview
I keep it basic. So many trainers now either use a "functional" approach that will get you hurt quick or they try to supplement your diet with a product. Developing a healthy lifestyle by eating clean, not starving yourself and working out consistently with intensity is the key to reaching any goal.
Training Philosophy
So many clients I talk to before I start training them want a quick fix. The first question is "How long will it take me to lose 25 pounds?". My answer is always how much work are you willing to put into your training. In order for weight loss to be attained and then maintained is through a healthy lifestyle change. That change needs to be permanent. If it is not you will ultimately end up right where you started. AND BE PATIENT! The body is stubborn. We are pre programmed in our genes to store fat. It takes time to manipulate the metabolism in a healthy way in order for it to burn fat and not store it.
Education
Health and Wellness Associates ISSA Certified NASM Nutrition Certified 12 years experience Founded and still own Catalyst Fitness Competition Prep Coach
Bio
I was a knucklehead when I was younger. I found myself in more trouble than anything else because I never focused on anything else but partying. Until I started going to the gym. The gym was my outlet and it gave me the confidence to be a better person. My passion for fitness grew so I decided to get certified and start my career. Shortly after working at a corporate gym I decided to enter my first bodybuilding competition. This was one of 7 that feed the passion even more. After working at Urban Active for 5 years I thought it was time I tried to go on my own so I started holding boot camps in a park in Mount Juliet, TN. After 3 months, that boot camp grew to an indoor studio and then 18 months later the studio was busting at the seems. It was time for a bigger place so I opened a 24 hour access membership gym in Hermitage, TN.