THE PERSONAL TRAINER CONNECTION!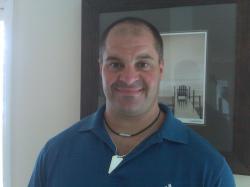 North Jersey Personal Trainer looking for clients who need a challenge.
James LaFratte -
973-256-3178
Little Falls, New Jersey 07424
Trains both men and women.
contact trainer
Specialties
Strength Building
Body Building
Weight Loss
Body Sculpting
corrective exercise
Certifications
N.A.S.M and A.C.E certified for over 20 years
Personal Trainer Overview
I conduct training sessions using free wieghts, bands, balls, machines, kettlebells, core, balance and flexibility techniques. Each workout is taylor made to take you quickly from walking to running in just a few short weeks.
Training Philosophy
I have been in the fitness industry since 1985 as a fitness professional, gym owner, bodybuilder and athlete. My life has been devoted to personal training, health and fitness, this is all I do. I conduct a no nonsense training approach that is not only physically challenging but educational as well. At the end of the day all fo my clients feel fulfilled in mind, body and spirit. Give me a call and I will give you 2 free training sessions just to try me out. I hope to hear from you soon.
Education
Some college and 25 years of hands on training with over 50,000 sessions completed.
Bio
I was introduced to the fitness industry in 1983, then I began working as a full time trainer at Jack LaLane in 1985. I was made a asst. manager and director of training in my first 3 months on the job. In early 1987 I opened my first gym of my own at 20 years old and was able to purchase my building and keep the business profitable until 1998 when I sold my building, closed my gym and took a job as Fitness Director of Gold's Gym. In 2001 I realized that I needed to express myself so I opened my current fitness studio in Little Falls where we have flourished for nearly 9 years.