THE PERSONAL TRAINER CONNECTION!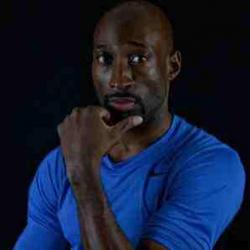 Specialties
Strength Building
Body Building
Weight Loss
Aerobics
Body Sculpting
Professional Boxer / Personal Tr
Certifications
(USA boxing association) Professional Boxer / Coach License
Personal Trainer Overview
Boxing self-defence, Punching techniques, blocking slipping technique, punch focus mitts for cardio and form. Weights, Boxing equipment such as boxing gloves, jump rope,focus mitts punching drills, balance and weight technique to increase power, better form, and speed. Boxing aerobics to burn 700 - 1000 calories in an hour.
Training Philosophy
Train like a boxer, look like an athlete, Live like a champion! Diets do not work because eventually you have to come off because they are unrealistic and most of the time nothing has been learned thus leaving us back to old habits which leads us back to where we started. Therefore consultation must take place in understanding how the body works with our choices, habits and food in order to be successful and to experience optimal results.
Education
USA boxing association coach
Bio
J loves the art of boxing and will train, motivate, and provoke you mentally and physically like a boxer would be trained. James has been training individuals for over 15 years now with great success in helping others achieve their intended health and fitness goals. James loves and believes in the art of boxing and the specifics of learning how to utilize and master all of the tools of the sport, not just being one-dimensional, but being multifaceted. James signed with One Hit Promotions in December of 2014 presently has a Professional record of 4-2-1 and will be fighting again May14th at the Dorton Arena Lightning Strikes event. If you would like to attend go to ittakesonehit.com and click on my name to purchase tickets. Ig-Nextgreatest Fb -NextGreatest