THE PERSONAL TRAINER CONNECTION!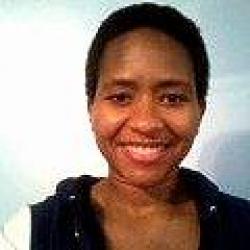 Specialties
Strength Building
Weight Loss
Calisthenics, HIIT
Certifications
Mind-Body Fitness Certification
Personal Trainer Overview
Start your journey to fulfilling HealthFullness. Your total well being is important to me, therefore I will assist and motivate you along your journey to better health of mind and body. Contact me today and together, we can begin your journey to becoming the best version of yourself. Infinite Potentialis withIN you. Get the Results You Desire Today!
Training Philosophy
Health is Wealth! Are you tired of being overweight, not feeling confident, always lacking energy, looking in the mirror and disliking what you see? Having trouble finding the motivation to workout? Are you stuck at the same weight and not able to make any progress? I have the solution for you! Embracing physical activities is very important. That can make a huge difference in your overall health and fitness. I create a fun, motivating, and non-judgmental environment, hopefully allowing you to have a more positive mental attitude toward working out, therefore making it easier for you to transform your health & fitness. My ultimate goal, always, is to help you help yourself by passing along the knowledge, positive energy & motivation you need to lead a healthfull & active lyfestyle.​ You will gain confidence, look better, feel sexy & be healthy! I look forward to motivating you to reach the fitness level you desire. No matter what fitness level or age, you will benefit from my 33 Minute High Intensity Interval Training (HIIT) Program. These total body exercises will help you be fit for lyfe. And a gym is not necessary. All you need is your body to get results and the best workouts of your lyfe! Workouts include: Encouragement & Motivation High Intensity Interval Training (HIIT) Weight Loss Accountability ​Increased Metabolism Improved Fat Burning Fun, Challenging & Effective Cardio & Circuit Training Calisthenic/Bodyweight Training Lyfelong HealthFull Habits Muscle Firming, Flexibility & Strengthening Improved Cardio & Muscle Endurance Non-Judgmental Environment Look Great, Feel Sexy, Be Healthy!
Education
Accounting and Finance
Bio
As a former Division I collegiate athlete, I know what it takes to get in shape and maintain physical fitness. I have been active my entire lyfe, but for many years, I neglected to develop my mind. ​​I now know the importance of holistik health in order for me to be a totally healthy and well-rounded person. Through adjustment of the mind's perception, forgiveness, love, and a non-judgmental approach to lyfe, I have begun to become more peaceful and joyful. ​I strive for constant progression, not perfection, and I invite you to take the simple, but challenging & but most rewarding, journey to a fulfilling state-of-mind and health. Health is Wealth!