THE PERSONAL TRAINER CONNECTION!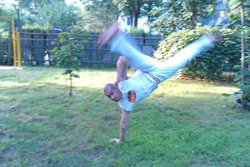 Personal Training, Martial Arts, Kickboxing, Strength Training, Weight Loss
Ernie maynor -
631-806-0719
Brentwood, New York 11717
Trains both men and women.
contact trainer
Specialties
Strength Building
Weight Loss
Aerobics
Kick Boxing
Body Sculpting
Certifications
ISSA Certified Fitness Trainer
Personal Trainer Overview
Extensive Martial arts background. Employ training methods used for martial arts conditioning. Plyo-metrics training, and Training for explosive power. Can also do weight loss/management
Training Philosophy
Endurance is everything. Without endurance to withstand the training session, you cannot grow complete. Endurance comes from cardiovascular training. But don't worry, there are a 1000 things other than an elliptical or treadmill. Those can get boring quick! Also, a lot of people neglect the lower body because they are not "Show Muscles." (Typically this is the male gender). But actually, what is more important is a good base, and balance. Without a good base to employ proper form when exercising, injury can occur, thus taking you out of training for a longer period of time. Proper form, and technique are essential and should come first, before developing speed and power. My training tends to focus on this very heavily not only to prevent injury, but to instill good habits from the start so no bad habits are developed later. If you are not sure about my training, relax. Everyone has a learning curve and because I love training/teaching, my patience with a client is above and beyond. If you don't get a movement, no worries! I will train with you, to help you along, explain why the proper form is done in such a way, and work with you until you get it step by step. Training should be fun and enjoyable, not obligating. If it's not fun, a decrease in motivation will occur. The mind must be set on the goals of training and not hinder. And if you do, it's normal. That's what I'm here for, you're personal crutch. I am very creative in workouts and training sessions, and you will never be bored. I am a good listener too. If something is bothering you, we can talk and I will do the best i can to coach you along, so your training is not effected.
Education
Extensive martial arts background (kickboxing, muay thai, capoeira) experience. ISSA Certified Fitness Trainer.
Bio
I have a unique passion for teaching. I love training, and teaching others fundamentals to stay healthy. A lot of my training is martial arts based, but geared for all ages. Whether you are young or older, and want to learn self defense, lose weight, strength and conditioning, my training can get you there. I have trained many people who wished to learn martial arts in the past before I was certified. I have always had a passion for training, and I feel I can do this for the rest of my life. There is nothing better than to see the look of success on a client, when they achieve there goal.