THE PERSONAL TRAINER CONNECTION!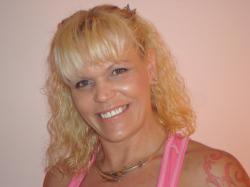 Specialize in Weight Loss, Building and Toning Muscle, Advice that will improve your overall Quality of Life
Erika Flores -
630-205-9473
Villa Park, Illinois 60181
Trains both men and women.
contact trainer
Specialties
Strength Building
Body Building
Weight Loss
Body Sculpting
Certifications
NPTI (National Personal Training Institute) American Heart Association
Personal Trainer Overview
Erika trains in many different ways. Depending on your goals, her methods change to adapt for those goals. With high energy and a great passion, Erika will get you where you want and need to be.
Training Philosophy
I will design a program to fit you individual needs. Together we will challenge your body with new and exciting exercises weekly. Because I was over weight myself, I understand the mental commitment and physical demand. With that in mind, I will be right by your side to push you. I like to have fun while we work you out, but I take exercise programs very seriously. So be ready to look and feel healthier!
Education
NPTI (National Personal Training Institute) Diploma / Practice and Theory of Personal Training CPR / AED Certified Certification in basic nutrition Sports Specific, Strength training, Weight loss Fitness Assessment includes an in depth calculation using your Body Weight, Height, Age and your Sex to determine your personal Muscle Mass, Body Fat, percentage of your Body Water, Bone Mass (determines the weight of your bones in your body), Visceral Fat Rating (this shows the amount of fat surrounding your vital organs in
Bio
"Hi there, my name is Erika Flores. I can tailor a program designed to fit your individual needs. And I don't just stop at exercise I can help you with nutrition advice and lifestyle changes. I have been active my whole life with such activities such as cheerleading, gymnastic, volleyball, dance, and the list goes on. I have been working out and training with other personal trainer's for over 15 years. I am looking forward to working you to become a better you. Your fitness is my goal."