THE PERSONAL TRAINER CONNECTION!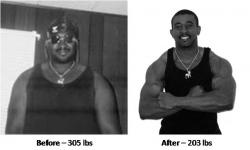 Tired of trying everything out there to get in shape?
Emmanuel Robinson -
919-760-7895
Raleigh, North Carolina 27613
Trains both men and women.
contact trainer
Specialties
Strength Building
Body Building
Weight Loss
Rehabilitation
Body Sculpting
Training Locations
home
studio
work
outdoors
Personal Trainer Overview
What makes me stand out from other trainers is I have been in alot of my clients shoes. I've been the person that just wants to look good, the person that wants to lose weight for health reasons, the person rehabing from an injury, or the individual training for a sport. You name and I am almost certain I have been there.
Training Philosophy
I bring a common sense way of training to the table. I feel you don't have to be a drill sergeant to be a good trainer. You don't have to have someone to scream at you to get some good results. Let me prove it to you!
Education
Certified Fitness Trainer Specialist in Performance Nutrition CPR&AED Certified Weight loss Consultant Strength trainer from junior professional soccer team(Europe)
Bio
I was always a heavy child. I come from a family that didn't believe in physical activity or watching what you ate. I eventually went to a gym with a friend of mine and fell in love with it. I got into powerlifting and was pretty good until I got an injury. I committed a very simple mistake that I see alot of people do in the gym now. So by me not being able to workout like I was used to, I gained alot of weight. This went on for over a year until I said enough was enough. I got certified as a trainer and 11 months later I was down over 100 pounds and feeling great. I've maintained that weight loss for over 7 years now and going back to that weight is not an option.