THE PERSONAL TRAINER CONNECTION!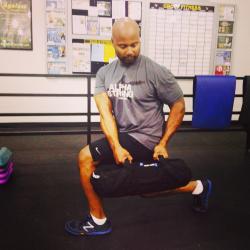 Fat Loss specialist
Douglas Sheppard -
(702) 892-0400
Las Vegas, Nevada 89117
Trains both men and women.
contact trainer
Specialties
Strength Building
Weight Loss
TRX & kettlebells
Certifications
NSCA- CPT
ACE
TRX
ACSM
RKC
Personal Trainer Overview
As a strength coach & trainer my job is to listen and provide a safe, effective program to help you reach your goal.
Training Philosophy
I count RESULTS not reps.
Education
Multiple nationally recognized certs & 23 years exp.
Bio
Doug has been helping people reach their fitness goals since 1991. Doug is currently a certified personal trainer with the American College of Sports Medicine (ACSM), the American Council of Exercise (ACE), and the National Strength and Conditioning Association (NSCA). He is certified as a kettlebell instructor through both the Russian Kettlebell Certification (RKC) and the StrongFirst kettlebell instructor program (SFG). He is a level 1 instructor with the TRX suspension system, and a certified professional in the Functional Movement Screen system (FMS). The International Dance and Exercise Association (IDEA) awarded Doug the distinction of "Master Trainer" in 2005. As a competitive bodybuilder he reached a pinnacle in his amateur career when won the 1998 Junior National Championships as a light-heavy weight. Doug has trained professionals of the NFL, NBA, USTA, and PGA. He currently is on the state advisory board in Nevada for the National Strength and Conditioning Association (NSCA), and is a featured speaker monthly for the Professional Fitness Institute in Las Vegas a division of Pinnacle Career Institute.