THE PERSONAL TRAINER CONNECTION!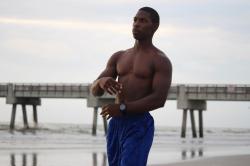 DON'T WAIT ANY LONGER. LETS GET STARTED
Devin Lawson -
Jacksonville, Florida 32256
Trains both men and women.
contact trainer
Specialties
Strength Building
Weight Loss
Rehabilitation
Body Sculpting
Training Locations
home
work
studio
outdoor
United States
Certifications
I am certified through ACE(American Council on exercise).
Personal Trainer Overview
When you train with me you will get someone that's not going to give up on you or your goals. I won't give you your normal run of the mill workout plan. You'll get an individualized plan that's going to not just give you the look you want but will also give you the lifestyle you want.
Training Philosophy
My philosophy is simple, get you working toward your goals. Everything that you will be doing will be to get you going where you need to go.
Education
My experience in fitness is my education. I have a year in the field and staying on top of all the news in the fitness industry.
Bio
Throughout my time playing football and running track it made exercise and fitness a necessary part of my life. Today I use the same principles of exercising to do my best. When I played half back in football I took hit after hit, but I always got back up. At the end of the day I knew that I wanted to do my best and not let anything hold me back; including being knocked down. It taught me that if anyone or anything gets in your way you have to do your best to get past it and keep moving; especially when it hurts. You may get knocked down hundreds of times but its not how many times you get knocked down, its about how many times you get back up and keep moving forward. When I ran track I ran the hurdles. Some hurdles were easy to get over and some were extremely hard to get over. I didn't focus on how difficult it was going to be. I focused on what would be the best way to get over them; so I could keep going until the end of there race. You are going to fall over and over in life. This is something you must experience to get better. Getting knocked down is part of the process in becoming an amazing person. One important skill you need to learn quickly is picking yourself up. This is what I want to teach you through our focused coaching and training program. I know that many things in life have made you fall. I know you want to give up and you have had many people tell you that you are not good enough to do something. Don't listen to them. Listen to me when I tell you that you are good enough. You are great. You deserve to win. You are worth it and I am going to prove it all to you. I will be here to coach you through it all and get you through all of your fitness goals. Be the best you that you can be. No one else can do it for you.