THE PERSONAL TRAINER CONNECTION!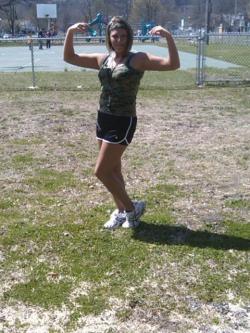 Believe & Achieve Fitness In-Home & Outdoor Training Services
Dawn Burt -
570-441-1410
Nescopeck, Pennsylvania 18635
Trains both men and women.
contact trainer
Specialties
Strength Building
Weight Loss
Body Sculpting
Marathon Training & Boot Camps
Certifications
Group Fitness Instructor Certification
Boot Camp Complete
AED Training
CPR Training
Understanding & Motivating Midlife & Older Adults
Screening & Assessment for Exercise Programming
Certified Personal Trainer Certification
First Aid Training
Marathon Training. I belong to ACE
American Red Cross and an Alumni of Leukemia & Lymphoma Society Team In Training.
Personal Trainer Overview
I'm your Motivational Coach, Trainer and WorkOut Partner all rolled into one. I will encourage you, push you to your limits and get you out of your comfort zone. I bring the equipment to you, show you proper form and technique. I then get creative with your surroundings and lifestyle to customize a training regimen that you will WANT to do everyday and that is compact and easy for you to complete even on your busiest days.
Training Philosophy
If You Want It....You Have To Work For It! When You Believe in God you will Achieve All Things Possible. He gives you the inner power and passion to Believe in yourself. When You Believe...You Achieve!! Each of my clients are so very special and unique. My training strategy is quite simple, Creativity + Motivation + Passion + Stretching + Cardio + Weight Training + 8 Small Meals/Day = A Fit, Healthy, Happy and Active Person. My clients get motivated just by feeling better. "You have to sweat like a pig if you wanna look like a fox" Game On!!
Education
Group Fitness Instructor, Boot Camp Complete, AED Training, CPR Training, Understanding & Motivating Midlife & Older Adults, Screening & Assessment for Exercise Programming, Certified Personal Trainer, First Aid Training, Marathon Training
Bio
Here is a bit about my journey. I was living the "party lifestyle" and one day finally decided to grow up. I joined a simple Christian Church. I quite smoking with much prayer. I then packed on over 50 pounds and became depressed. After 2 very long years of being fat, depressed and feeling unattractive, I began to pray about the situation. A few short months later I found myself wanting to gain knowledge about the fitness industry. I was to FAT to go to a gym so I decided to go through ACE and start my journey on the fitness track. I had received a mailer for an endurance event to raise money for The LLS. I found out my Grandpa had Waldenstroms Macrobelemia and decided I was doing this. I signed up, raised the money and did the 26.2 mile event in FL. This is also when I found out I had Exercised Induced Asthma. I should have died that day, it took me 7hrs and 2min. to cross that finish line in heat & humidity. After I hugged my grandpa at the finish line I collapsed, waking up with an EMT next to me. This made me want to change my body immediately. I returned home to continue my studies. While I was studying I started to apply what I was learning. I then began to notice I started feeling better each and every day. My confidence started growing and I began to realize I could do this on my own in my own house! Once I had the basics down I then brought creativity into the mix and added quite a variety of exercises in my regimen. I started doing only a 10 minute workout a day in front of the TV. I then built up to 30 min and continued to progress, feel better and now see results. I went from a size 9 all of my high school years to a size 16/18 when I quite smoking. Now I am in a size 6 the smallest I have ever been and still changing my body composition. You can have the body you want! I now love running marathons and raising money for charity. Most of all I LOVE helping others Achieve their Health & Fitness Goals!! I am here to help motivate and inspire you and get you the results you are seeking. Let's get started....GAME ON!!!