THE PERSONAL TRAINER CONNECTION!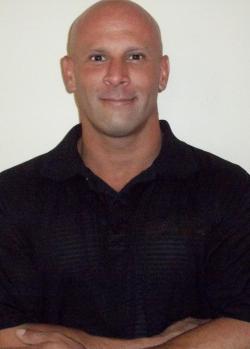 Specialties
Strength Building
Body Building
Weight Loss
Workplace Wellness
Certifications
AFPA (American Fitness Professionals of America) CPR Silver Sneakers Certification
Personal Trainer Overview
I have been a certified personal trainer for over 20 years with a total of 30 years strength training experience. I utilize both strength training and cardiovascular training to help my clients reach their goals.
Training Philosophy
A variety of strength and cardiovascular training exercises are used with every person. David and the client formulate an exercise plan that helps him or her achieve their health and fitness goals. Each person's body measurements and body weight are recorded at the beginning of the exercise plan. As time passes, measurements are recorded again to ensure that the client is progressing. This will assist in achieving small health and fitness goals. Each individual has his or her own health needs and David addresses their needs appropriately. He personally manages every person's fitness and health routines. The exercise session is approximately one hour. Cardiovascular and endurance training is also recommended at the conclusion of every workout. The success rate achievable concerning each person's fitness and health goals is generally 90% to 100% for those that are willing and capable to follow all training and nutritional advisement's.
Education
Attended Jones County Junior College.
Bio
I originally entered college to pursue a career in physical therapy. I quickly realized I would genuinely enjoy working with and helping people more so through doing full body strength and exercise plans. My personal interest is more about total body strength training, conditioning, discipline, and cardiovascular health along with the feelings of success. I love to help people get in shape and get fit. I enjoy seeing a person evolve both physically and emotionally as they become stronger, leaner and happier. It feels to me as if I share their success. That feels great! The shift toward personal training as a career has been a truly better avenue for me to pursue. My experience is very rewarding in many ways and I plan to continue my journey as a certified personal trainer. I feel as if my purpose in this life is to help as many people as I can to become healthier and happier. I want to be able to be a part of someone's life to help them change for the better.