THE PERSONAL TRAINER CONNECTION!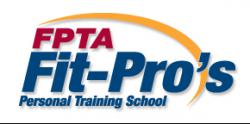 Specialties
SCHOOL FOR CERTIFIED PERSONAL TR
Personal Trainer Overview
Fit-Pro's Personal Trainer School, workshops in CT, MA, NYC, is the only personal trainer school that focuses on application. In order to create revenue streams, personal trainers should have an understanding of specific hands-on application. Our personal trainer seminars and workshops provide required cec's and are 90% hands-on with certified personal trainers. Knowledge is not power until application is present. The principles of personal training and proper exercise mechanics are what make the Fit-Pro's Personal Trainer School workshop and seminar one-of-a-kind. A certification workshop or seminar from Fit-Pro's Personal Training School (FPTA) is valuable to the employer, fitness director, and personal trainer. We demand—please—you become a certified personal trainer, with an accredited organization, and receive your continuing education credits (cec's), but remember personal trainer certifications do not effectively delineate between qualified and unqualified personal trainers. A personal trainer who attends a class room seminar gains informative "book" knowledge—this only makes the certified personal trainer textbook smart. Without the platform of knowledge in regards to application your only a "rent-a-buddy". Understanding the body & how it functions is based on science not "gym" talk.
Training Philosophy
Fit-Pro's Personal Training School, provides more than just continuing education credits (CEC's). Becoming a certified personal trainer is more than passing a test. Through our workshops and seminars, Fit-Pro's Personal Training School, teaches facilities and certified personal trainers more hands-on than any other personal training school in the country. We teach application—and how to increase revenue to your staff of certified personal trainers. How? Fit-Pro's Personal Trainer School demonstrates, hands-on, the difference between nonsense high-risk exercises based on sensation vs. proper anatomical function based on science. Become a "qualified", certified personal trainer who understands the difference between "gym" talk and science. Become a "requested" personal trainer who doesn't worry about client renewals.
Education
Talk to our team of teaching professionals. Seminar dates are determined by club owners, fitness directors, and Fit-Pro's Personal Trainer School representatives. Call Fit-Pro's Personal Training School for one day or weekend hands on advanced application courses. 203-288-8822
Bio
What Industry Professionals Are Saying About Fit-Pro's Steve Cotter, Director, International Kettlebell and Fitness Federation (IKFF): "I am pleased to endorse Jason Minns and Dave Parise for their Kettlebell and Personal Training course at Fit-Pro's Personal Training Academy (FPTA). Jason is a highly qualified CKT who brings a great deal of practical expertise to the art of teaching kettlebells and physical training. He will show you exactly what you need to do, and will make sure that you are dong it exactly right. For 25 years, Dave Parise has been on the cutting edge, experienced, and is truly in the forefront of the competition!" Peter and Kathie Davis, Co-Founders, IDEA Health & Fitness Association: "IDEA Health & Fitness Association the world's leading membership organization of health and fitness professionals with nearly 20,000 members in more than 80 countries, highlights Dave Parise of Results Plus and Fit-Pro's Personal Training School in Hamden, CT. For the past 24 years, Dave Parise has mixed attention to detail with an obsessive focus on nurturing and pampering to keep his business fresh and his clients motivated. On the cutting edge, and out-of-the-box attitude gave Dave Parise a spot light in the winner's circle! Dave Parise has been voted one of the counties premier personal trainers by numerous publications." Douglas S. Brooks, MS, Exercise Physiologist, Moves International Fitness: "Dave Parise is an accomplished teacher and an outstanding educator. His creative and leading edge training methodologies greatly influence how professionals teach and coach their clients/athletes. Dave is on the front edge of the functional training frontier and truly knows how to bridge this new information into practical, useable application. Dave continues to build on his twenty-two years of training and education. His body of work represents a major contribution to the fitness industry!" Sandy Todd Webster, Editor in Chief, IDEA Publications: "Dave Parise of Fit-Pro's Personal Training School and Results Plus has been an IDEA Health & Fitness Association member for over 24 years. He has assisted us as an editorial resource on many occasions and has always represented the industry at large in a very positive light. He has been generous with his time and has done many good things for his community and for the industry in general. I recommend him as an educator, and a provider." Cris Poirier, General Manager, Perform Better: "As General Manager of Perform Better Functional Training equipment, I cannot express how happy I am with the knowledge that Fit-Pros Personal Training School has to offer. Jason Minns and Dave Parise are 'top notch educators" One thing that stands out the most to employers, fitness directors, and certified trainers is fit-pros ability to help the trainer increase revenue streams by motivating the staff. This increase benefits the trainer as well as the club. Dave and Jason have taken common perception to a new level of functional fitness. I recommend there course to anyone who no longer want to be a common trainer. Get ready for an eye opening experience!" Fraser Quelch, Director of Training & Development, Fitness Anywhere, Inc.: "Dave Parise from Results Plus and Fit-Pros Academy has been an avid supporter of our company, Fitness Anywhere and our TRX Suspension Training program for some time. Recently, I had the opportunity to work with Dave at a major conference in New York City. Dave volunteered to assist me with a number of my presentations at the ECA Fitness convention. I was highly impressed by his ability to be thrown into a series of unfamiliar sessions and provide outstanding education with minimal preparation. I feel that Dave is an outstanding teacher and educator with a profound knowledge of human function. I would recommend anyone who wanted to excel in the personal training industry to work closely with Dave and tap into his wealth of knowledge."