THE PERSONAL TRAINER CONNECTION!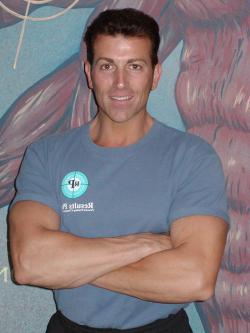 America's Top Trainers NATIONAL FITNESS HALL OF FAME
Dave Parise -
203-288-8822
Hamden, Connecticut 06518
Trains both men and women.
contact trainer
Specialties
Strength Building
Body Building
Weight Loss
Rehabilitation
Aerobics
Body Sculpting
On demand and on location or at
Certifications
President of Results Plus personal training 25 years - Owner of Fit-Pros personal training school. National continuing education provider. National academy of sports medicine.
Personal Trainer Overview
Dave Parise is a recognized leader in the fitness industry. On the cutting edge of exercise today, Dave has been voted one of the Top Personal Trainers in the United States and across Canada by the Association for Fitness Professionals (IDEA). Dave has 24 years experience in Strength Training, Human Performance, and Exercise Science. Born and raised in Hamden, CT, he began his career as a body builder and certified personal trainer. In 1986, Dave retired from competitive body building to establish a private one-on-one personal training facility located in Hamden, CT. Discouraged with common gym science and compulsory movements, he set out to change the fitness industry by setting new standards and proper training methods based on the function of one's individual anatomy, not a manufactured machine.
Training Philosophy
Our bodies are not designed to work in one plane of motion. The machine movements you perform in the fitness centers have absolutely no carry over to real life. The engineering of our bodies are designed to move freely in multidirectional planes. We professionally feel there is a lack of personal attention, and education at the local fitness center. Many "so called trainers" show exercises based on personal opinion, perception, and of course sensation. Results Plus trainers understand that "just because you feel it, does not mean you are working it. You could be straining not training." You can't change anatomy and the way it functions! So caution to the genetic athlete with no education, "One size does not fit all."
Education
September 21, 2009 Dear Mr. Dave Parise, The National Fitness Hall of Fame has chosen you as one of America's top personal trainers. For years, you have helped millions get fit & healthy and your life's work is well recognized. We here at The National Fitness Hall of Fame are truly thankful for all that you do for the health of our great nation. I hope you will accept this year's National Fitness Hall of Fame nomination so that we can make you an Official Candidate for 2010 induction. The 2010 National Fitness Hall of Fame Induction Ceremony & 5th Annual "Don of Sports" Awards Dinner will be held at Medinah Banquets of Addison in Addison, Illinois on Sunday – March 14, 2010. In 2010, our 6th induction class will be recognized and the IC event is expected to be very special happening. 2006 HOF Inductees, Dr. Bob Goldman and Margaret Richard will be co-hosting the event and many past inductees are expected to attend. Congratulations! Sincerely yours, Mr. John Figarelli, Executive Director National Fitness Hall Of Fame Minooka, IL. 60447
Bio
Meet the Owner: David Parise Dave Parise is a recognized leader in the fitness industry. On the cutting edge of exercise today, he has been voted one of the Top Personal Trainers in the United States and across Canada by the Association for Fitness Professionals, IDEA. Dave has 25 years of experience in Strength Training, Human Performance, Exercise Science, and sub-specialty in golf specific exercise. Born and raised in Hamden, CT, he began his career as a body builder and certified trainer. In 1986, Dave retired from competitive body building to establish a private one-on-one personal training facility located in Hamden, CT. Discouraged with common gym science and compulsory movements, he set out to change the fitness industry by setting new standards and proper training methods based on the function of one's individual anatomy, not a manufactured machine. Today, Dave Parise's personal training center, Results Plus, serves clients in Hamden, CT, North Haven, New Haven, Cheshire, Wallingford, Woodbridge, and Fairfield, Connecticut. A Message from Dave The goal of the Results Plus Personal Training program is to establish objective decision making into the implementation of exercise, to omit the conventional cookie cutter type recommendations you would find at the local fitness center or gym, to look beyond traditional exercise myths and incorporate sound movements. For the last 25 years, I've maintained the desire to impart only the truth about exercise. I always have believed that a moment of insight is worth a lifetime's experience. We are all victims of the my guru can beat up your guru mentality, which encourages the pubic to become followers of some genetic gym/fitness trainer's own personal experiences. I have learned most trainers who are employed by a Gym or Fitness center are nothing more than RENT-A-BUDDIES. (DON'T PAY FOR THAT) I believe that personal experience, and the way an exercise feels, is the furthest thing from anatomical efficiency, joint function, and muscular action. The science behind the movements, correcting posture so the exercise can be performed safely, more efficiently and with fewer struggles is what I recommend. I personally guarantee the Results Plus program is people sensitive and accurate. Understanding how the body functions makes result easily obtained. A wish changes nothing... a decision will change everything! Dave Parise CPT FPTA Results Plus Personal Training 3013 Dixwell Ave Hamden CT. 06518 EM: daveparise@resultsplus.com Web: www.resultsplus.com Office: 203-288-8822 Cell: 203-675-5575 Fit-Pros Academy / School www.fitprospersonaltrainingschool.com