THE PERSONAL TRAINER CONNECTION!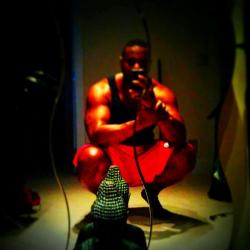 Specialties
Strength Building
Weight Loss
Boxing
Training Locations
home
work
studio
outdoor
United States
Certifications
NASM
CPT CPR -AED Certified. Krav Maga
Taichiquan Broadsword. Tough Mudder
Metro Dash.
Personal Trainer Overview
I 'm a NASM certified personal trainer with experience in boxing , Krav Maga, and endurance racing. I have successfully completed the Tough Mudder and Metro Dash. I 'am currently training for a GORUCK challenge. I have a passion for weight training and circuit training coupled with a desire to see my client through progressive not aggressive training .
Training Philosophy
Clients can expect a focused approach on what they can achieve. I don't believe in pushing someone aggressively for the sake of profits, our bodies are designed to achieve the same things but in a de-conditioned state clients can become injured and lose interest . One can achieve their goals systemically through NASM's Opt model. I have learned that training is a lifestyle that if embraced can affect various areas of your life. Whether stress or anxiety, depression or the feeling of unaccomplished goals please know that you can do whatever you put your mind to. Change is inevitable and you always will play a role in your success.
Education
NASM Certified Personal Trainer, Member of NESTA,
Bio
Like most children I had a very active childhood. I could not wait to get home from school, finish my homework, and get out to play basketball, football, and sometimes sand lot baseball. My dad introduced boxing to my brother and I around age 10 or so, and I was instantly hooked no pun intended.It improved my balance, coordination, and power.In high school I ran track competing in the 100, 4x200 relay which primed my body for the rigors of high school football. After high school I played intramural basketball in college and spent time weight training in my spare time.After college I kept myself active joining every gym out there and keeping up with trends. I realized that fitness is a passion that can bring people together and can change lives. I lost my dad to cancer 10 years ago and in watching his ordeal scared me.I became credentialed to teach and be in a position to learn.