THE PERSONAL TRAINER CONNECTION!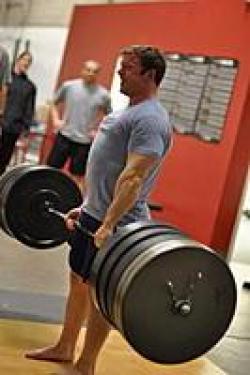 Specialties
Strength Building
Body Building
Weight Loss
Rehabilitation
Body Sculpting
CrossFit, Olympic Weightlifting,
Certifications
CrossFit- Level 1 Instructor/Trainer
Running/Endurance Coach
Football/Power Athlete Coach USA Weightlifting - Sports Performance Coach
Personal Trainer Overview
I have a decade of experience training athletes and individuals of all ages and fitness levels. Whether your goal is to improve your on field performance, shed unwanted pounds or just improve your overall health, I can create and execute the program that will allow you to achieve the results that you need.
Training Philosophy
Merriam-Webster's dictionary lists definitions for the word "fit" as "adapted to an end or design; suitable by nature or by art; adapted to the environment so as to be capable of surviving; put into a suitable state; made ready; being in such a state as to be or seem ready to do...something." This is the basis of my training philosophy, that the goal of any fitness or training program is to make the individual better adapted to the physical demands of their daily life, whether that involves athletic competition, weekend adventures or just keeping up with the kids. Fitness is about making you the most effective possible version of yourself.
Education
I took the blue collar route to my training education. There isn't a college course or textbook in the world that can compare with working under the tutelage of a great coach. In my career, I've had the opportunity to work with and learn from some brilliant minds and train side by side with world class athletes.
Bio
I got into the industry in a roundabout way. I played a lot of sports in my youth, but drifted away after high school. When I was 23, I decided to get back in shape. After a while, it became an obsession; my whole life was built around my workout schedule. I very quickly became the guy at the gym that all the other members come up to and asked questions, but it was when the training staff at the gym started to ask me questions about my routines that I came to the realization I may want to consider pursuing a fitness career. After getting certified through the American Council for Exercise, I went out and got a few training jobs, one at a local personal training studio and the other teaching conditioning classes at a martial arts school. It was through the latter that I would eventually find my permanent home. One of the students at the martial arts school was a very talented trainer who was in the process of opening his own gym, and who I would eventually go to work for. It was also around this time that I first got into the CrossFit movement. In CrossFit, I found a community of trainers who shared my obsession with seeking out the best and most effective training methods. Very soon, I began collecting certifications offered through the CrossFit community and dropped my ACE certification in favor of a certification from the National Strength and Conditioning Association, whose philosophies I felt were more in line with my own. Over my career I have had the opportunity to work with some great coaches, trainers and athletes. All the while, I've continued learning everything that I can about coaching proper movement, designing effective programs and implementing the nutritional strategies necessary to fuel success.