THE PERSONAL TRAINER CONNECTION!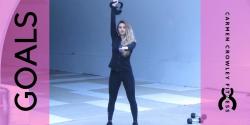 Specialties
Strength Building
Rehabilitation
Spin
Kick Boxing
Body Sculpting
n/a
Certifications
NASM Certified Personal Trainer NASM MMA Conditioning Specialist
Corrective Exercise Specialist & Behavior Change Specialist ACE Certified Health Coach Oh
Baby! Fitness Pregnancy and Postpartum Exercise Specialist CPR/AED Certified
Personal Trainer Overview
I am an Austin, Texas-based Health Coach and Personal Trainer. I am a driven, methodical and compassionate person who just wants to make a difference in this world. I find science to be mesmerizing and the human body's capabilities to be astonishing. My goal in life is to educate as many people as possible in order to ignite a healthy community. Being a woman can be a struggle day-to-day with the tremendous amounts of advertisements pressuring us to be a certain size or look a certain way. It truly may start to wear on us to a point where it causes us to feel negative about our bodies. But, instead of trying fad diets, buying the latest waist trainer belt, going wild with cardio training or becoming obsessive with your scale, please let me share my knowledge and show you how we are going to create the long-lasting change you have been chasing after.
Training Philosophy
The "No Pain, No Gain" motto is slightly ambiguous and out of date on how that correlates for us to hit certain physical goals. For me, I want my clients to know that unbearable pain is not necessary for growth and progress. Sometimes, specific pain usually is a sign that your body is being pushed to a point where you may be on the verge of an injury. BUT, I can tell you there will be times where you may feel an overpowering "burning" sensation when your muscle is under tension while performing movements. I want you to learn to love the process of exercise by embracing it to motivate you and ignite you to pursue it for the rest of your life. Exercise has so many fantastic health benefits-it is almost necessary you learn to appreciate the healing power it offers your body. I will show you the reins and help you overcome fears and limited beliefs that are holding you back from developing the body you desire.
Education
At a young age, I started self-educating through books, articles, podcasts, and videos to learn about anything and everything I could health and fitness related. Years later, it led me to follow through with my vision. After attending school, I received certifications to carry out my dream to help others overcome the fears of their own struggles with their bodies. The best life-changing decision I ever made was to help women embrace change and help them find their inner power and strengths to achieve their own beautiful visions of themselves.
Bio
There are always options when you have to make a decision on whom you would like to guide you through your fitness journey. Personally, I strive for absolute safety and control when going through movements with my clients. From my thoughtful process setting up the systematic programs for you to my complete attention to how each movement feels and where you may be feeling, it will keep you away from injuries. My extensive background in understanding the body's biomechanics gives me the insight to know warning signs and to know when and how to push your limits to ultimately give you a safe AND fun workout! I teach you how to listen to your body, help you embrace your work outs as they may get harder throughout your growth and thoroughly communicate your limitations, your growth, and your healing process.