THE PERSONAL TRAINER CONNECTION!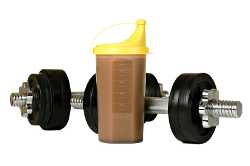 High Intensity Personal Training
Buck Nimz -
(856) 628-5046
Wenonah, New Jersey 08090
Trains both men and women.
contact trainer
Specialties
Strength Building
Body Building
Weight Loss
Rehabilitation
Aerobics
Spin
Body Sculpting
Tactical Athlete Training
Certifications
I am an AFAA certified personal trainer and group exercise instructor. In the past I have also held spinning certifications (Madd Dog) and senior fitness certifications (American Senior Fitness Association) but they have lapsed.
Personal Trainer Overview
I specialize in High Intensity Interval Training (HIIT). This is a time-based, (not rep-based) training method that uses short bursts of intense exercise followed by even shorter rest periods. It is excellent for fat loss and improving muscular endurance and strength and developing cardio capability. So I don't just stand there and look good and count reps for you. I get results.
Training Philosophy
I train clients like I train myself. In fact, I often train with my clients as their training partner because I find that this is the best way to motivate my clients. It is a leadership technique I learned as an Army Ranger: Never ask someone to do something you can't or wouldn't do. Rangers lead the way!!
Education
I have taken many classes in various exercise methods that are too numerous to mention here. I have over 20-years of personal training experience with almost every population: from elite athletes to seniors and pregnant women.
Bio
I am a life long athlete. I played competitive sports in high school and college: football, wrestling and baseball. I grew up on a ranch in Arizona and rode horses and participated in gymkhana's where we'd have impromptu competitions for calf roping and bull riding. I also learned to shoot and hunt and fish and live off the land. Like Hank Jr's song says: "I can skin a buck and run a trot line." These skills came in really handy when I joined the US Army and served as an Army Ranger in Vietnam and are probably why I'm still here today. During college, I got involved in training for and competing in Olympic and Power lifting: In the mid- 80's I continued competing in Power lifting and also judging meets and training other power lifters. My mentor and coach at Arizona State University was Jon Cole, the first man to total over 2000 lbs in the Squat, Bench Press and Deadlift. Over the years I learned more about the human body and how it responded to diet and exercise. I already understood how powerful the mind/body connection was because, early on, I had learned to push myself way beyond the point where most people would quit. But I wanted to learn the theory so I took college courses and seminars and read research papers and tried every conceivable supplement you can imagine and yes, I did steroids for a while too and can tell you that was a road to nowhere fast. In the last 10-years I have gone back to my roots with High Intensity Interval Training (HIIT) where you perform short bursts of intense exercise with even shorter rest intervals: time based, not rep based. This is how I trained for wrestling and, once again, I am in the best shape of my life. I like HIIT because I can vary the intensity based on each client's physical ability. I use it for seniors who have had joint replacements ( I had a left hip replacement in 1974 and another one in 1998) as well as elite athletes like the young man I trained who went on to become a Navy SEAL. Note: Tactical athletes must be in excellent physical condition, but it is the mental training that's the difference between success and failure. That's what I emphasize when working with the tactical athlete: the ability to overcome fatigue and pain using the mind. You can't train it unless you've actually done it. That's why I don't have (or need) a Tactical Athlete Training Certification. I've got the "Been there, done that" t-shirt.