THE PERSONAL TRAINER CONNECTION!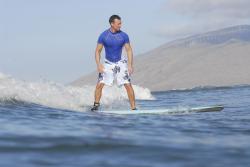 Specialties
Strength Building
Weight Loss
Spin
Body Sculpting
Boot Camp
Training Locations
home
gym
work
outdoors
Corporate Facilities
Certifications
ACSM Certified Personal Trainer Mad Dogg Athletics Certified Spinning Instructor CPR/AED - American Heart Association
Personal Trainer Overview
DO YOU WANT TO LEARN HOW YOU CAN GET BACK ON THE FITNESS - CHECK OUT MY LIVE INTERVIEW WITH ELISA STREETER ON WTEN NEWS CHANNEL 10! Cut and paste this link to your address bar http://www.wten.com/Global/category.asp?C=172705&autoStart=true&topVideoCatNo=default&clipId=5542508&flvUri=&partnerclipid= Welcome to Personal Training! Here's what you can expect from your personal training program: Session One - Activity Readiness Profile (60-minutes) During your first session we will meet to assess your health history, review your dietary habits, and discuss your health and fitness goals. Session Two - Fitness Assessment (60-minutes) The health and fitness assessment is a comprehensive evaluation designed to; 1) Establish baseline information for future comparison; 2) Assist in designing your personalized exercise program and; 3) Track objective, measurable results over time. The assessment includes: Body weight, waist measurement, blood pressure, body fat analysis, strength, cardio, and flexibility tests. Session 3 - Program Presentation (60-minutes) During this session we will review your fitness program and introduce the strength training, cardiovascular, and flexibility exercises. We will focus on proper form, movement education, and muscle recruitment, while teaching you how to monitor your intensity. Each personal training session thereafter will challenge your overall fitness while providing with the knowledge you need to continue seeing amazing results.
Training Philosophy
My goal is to provide you with proven nutrition and fitness strategies to help nourish your body so you can enjoy a lifetime of optimal health and fitness. I believe the key to your success is the consistent, positive support you'll receive (through personal email, tweets, and phone conversations) to keep you motivated and on track to acheiving your health and fitness goals.
Education
Bachelors of Science, Skimore College (UWW) 2007
Bio
Thank you for viewing my profile! My name is Bryan Nunziato and I am personal trainer certified by the American College of Sports Medicine. I have been fitness professional for over 13 years serving as a personal trainer, Fitness Director, group fitness facilitator, and corporate wellness consultant. I have made it a priority to be a model of integrity and service for personal training clients in downtown Albany. In May 2007, I earned my Bachelor's Degree in Exercise Science from Skidmore College (UWW) in Saratoga Springs New York and since then dedicated substantial time to continued education, allowing me to accommodate clients of different ages, medical conditions, and level of experience. In 2008, I collaborated with Omni Development Company, Inc to design and manage Omni Fitness Center, a specialized fitness facility located at 54 State Street, 2nd floor in Albany, New York. (www.omnifitnesscenter.net) In 2009, I hosted my own live radio show on TALK 1300 AM called "Weigh in on Welness" where I discussed topics related to fitness, nutrition, and optimal health. Since then I have written health and fitness articles for the Downtown Digest and contributed to the Times Union health and fitness column. Recently, I consulted with Acliff Technologies Group, Ltd to design a paperless, cashless club management software program to help provide eco-friendly solution to our members. While still in BETA, I look forward to the release in February 2011. Thank you for visitng and I look forward to helping enjoy a lifetime of optimal health and fitness. Please feel free to contact me with any questions. - Bryan