THE PERSONAL TRAINER CONNECTION!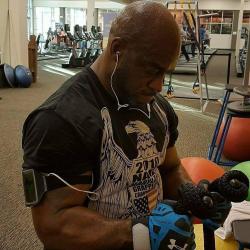 Combat Sports Trainer
Bryan Matthews -
(210) 201-3821
San Antonio, Texas 78254
Trains both men and women.
contact trainer
Specialties
Strength Building
Body Building
Weight Loss
Kick Boxing
Body Sculpting
Combat Sports Training
Certifications
ISSA CFT Nesta Certified Sport Nutrition Specialist Nesta Certified Tactix Instructor Nesta Certified Muay Thai Instructor
Personal Trainer Overview
Current Professional Mixed Martial Artist and International Jiu-Jitsu competitor 1st degree Black Belt Tae Kwon do Former International Professional Football Player Tae Kwon do Champion 2006 Jiu-Jitsu Champion 2010 to Present Certified U.S. Army Master Fitness Certified Modern Army Combative Trainer
Training Philosophy
I believe in helping everyone release their inner beast. We all have an inner roar and regardless of if you want to become a champion or super mom with guns. I am here to help you achieve your goals. My training is designed to make you feel good about your training at the same time teaching you an imperishable skill of self defense.
Education
Masters Degree in Information Management Master Fitness Small Group Facilitation
Bio
I am a retired Army vet, I served 24 year as a Field Artillery Noncommissioned Officer. I have developed skills during that time which has helped me enhance planning, training and mentoring. I played Professional football in Germany. In 2006 I became the 8th Army (Korea) Red Belt Champion. In 2016 I was Ranked #1 in the World and also titled a Worlds Champion in Brazilian Jujitsu. I currently am a Mixed Martial Arts Coach and Instructor. Part of what I do is build physical and mental strength.