THE PERSONAL TRAINER CONNECTION!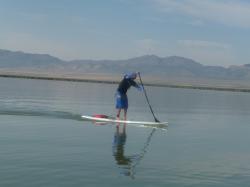 Adventure Fitness Trainer, Boot Camp Instructor
Brad Behle -
801-706-3210
South Jordan, Utah 84095
Trains both men and women.
contact trainer
Specialties
Strength Building
Weight Loss
Rehabilitation
Aerobics
Body Sculpting
Kettlebells
Personal Trainer Overview
Brad owns Wasatch Adventure Boot Camp where they focus on teaching the importance of being functionally fit both physically and mentally. Staying active and fit is a lifestyle Brad enjoys living. After a car accident that left him with an injured back, he found Kettlebells to play a huge role in strengthening his back and core. He loves seeing people do new things and stepping out of their comfort zones. He feels people are at their best when they take care of their health and fitness and knows we can all use help and encouragement. See Boot Camp and Kettlebell training on channel 2 news: http://www.youtube.com/watch?v=aChe4nfkTlY http://www.youtube.com/watch?v=cHShYEgnPWw&feature=related Brad's Paddle to Battle Cancer: http://www.youtube.com/watch?v=bwKsIHdMMzE
Training Philosophy
Be Adventure Fit!
Education
-A.S. in general studies with classes in Exercise and Nutriton. -Graduate of the "Be Better" program under guidance of fitness icons Phil Kaplan and Kelli Calabrese
Bio
Husband, Father, Friend, Adventure seeker, Stand Up Paddler, Harley rider and an individual trying to be better everyday and return the favor of all the help I've received in my life!