THE PERSONAL TRAINER CONNECTION!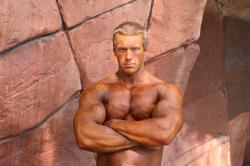 CompleteBody: Progressive Personal Training
benjamin loehrer -
612-750-6562
Minneapolis, Minnesota 55419
Trains both men and women.
contact trainer
Specialties
Strength Building
Body Building
Weight Loss
Rehabilitation
Aerobics
Body Sculpting
Personal Trainer Overview
I am currently involved with a wide range of men and women, ranging from teenagers to seniors. Anywhere from triathlon athletes and bodybuilders to working with clients on their road to rehabbing a knee, low back, or shoulder. I am a competitive bodybuilder and fitness model, I practice what I preach and never ask anyone to do something that i couldn't personally do.
Training Philosophy
I believe in a well rounded fitness plan, including weights, cardio and a simple but effective diet plan. My philosophy on training and dieting is all about keeping everything simple and straight forward. When it comes to the gym, it's all about hard work. My clients leave with a smile and a sense of accomplishment.
Education
Bio
I grew up in rural South Dakota and recently transplanted to the Twin Cities. Growing up in a rural environment instilled in me a strong work ethic and powerful integrity. Since moving to the Twin Cities, I have a new found appreciation for the culture and community. I began training with weights to become bigger and stronger for football in junior high school, found a passion for it, and I have been training ever since. As a certified personal trainer and competitive bodybuilder, it's very rewarding to see other people achieve their fitness goals. I enjoy educating others with current fitness techniques, knowledge and positive motivational support to help people look and feel great!