THE PERSONAL TRAINER CONNECTION!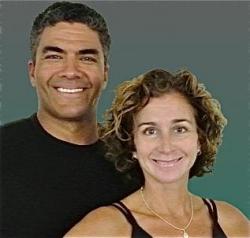 Somar Strength...The Official Trainers of The West Florida Golf Tour.
Barbara and Hector Ramos -
9176965031
Sarasota, Florida 34242
Trains both men and women.
contact trainer
Specialties
Strength Building
Weight Loss
Rehabilitation
Golf Specific Fitness
Training Locations
home
Somar Strength Private Studio
Personal Trainer Overview
We have over 45 collective years of experience in the fitness industry and are the official trainers of The West Florida Golf Tour. We use TPI (Titlelist Performance Institute) certified screenings to identify any physical limitations that may be inhibiting you from playing optimally. We then take that information and design an individualized program to improve your body's efficiency by combining resistance training, stretching and massage therapy. Don't just play better...feel better, look better and LIVE BETTER.
Training Philosophy
We all have imbalances and limitations that rob our bodies of the ability to live efficiently. However, because the human body seeks to be strong, balance and efficient...we believe that with the proper design and implementation of a personalized corrective training program, many of these physical limitations can be decreased or even eliminated. Allowing you to live the life you want to live, the way you want to live it. If you're committed to changing your life, we're committed to helping you change it. Come work with us in a private, fun and friendly atmosphere with beautiful views and plenty of parking.
Education
Titleist Performance Institute, American Council on Exercise, Swedish Institute College of Health Sciences, International Sports Sciences Association
Bio
Barbara Ramos has been in the fitness industry for over 25 years. She was a professional dancer before becoming certified by both ACE and ISSA as a personal trainer. She has acquired extensive experience in the fitness profession including group instruction, management, one to one training and "train the trainer" programs. She successfully established her own personal training business 25 years ago in New York City. In 2005, Barbara became a licensed massage therapist after graduating with an Associates Degree in Occupational Sciences from the Swedish Institute College of Health Sciences. As a personal trainer and massage therapist, she has had exposure to a variety of situations and populations. Special populations have included post-operative, rehab, seniors, children and pre and post natal. Hector Ramos has been a personal trainer for over 20 years. Fitness however, has been an important part of his life for much more than that. After playing a variety of sports, he was introduced to weight training by his martial arts instructor and has been working out ever since. In 1993, he decided to make his passion his profession and became certified as a personal trainer through ISSA and later ACE. He has helped countless clients of all ages and backgrounds achieve and maintain their goals. Several years ago, he was introduced to the game of golf and quickly became fascinated by the biomechanics of the golf swing. Deciding to focus his attention on helping golfers (himself included) improve their game, he acquired a golf specific certification through the Titleist Performance Institute (TPI). They have teamed up to form Somar Strength and have a private studio in the Palm Aire section of Sarasota, Florida. Somar Strength was recently named the official trainers of The West Florida Golf Tour and currently work with several professional players. Together they will use their knowledge, experience and expertise to improve your body's efficiency by combining resistance training, stretching and tissue manipulation techniques.