THE PERSONAL TRAINER CONNECTION!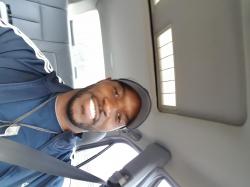 Build your best body now!!!
Anthony Gillard -
(214) 276-2304
Dallas, Texas 75287
Trains both men and women.
contact trainer
Specialties
Strength Building
Body Building
Weight Loss
Rehabilitation
Body Sculpting
Speed Training, flexibility trai
Training Locations
home
work
gym
outdoor
United States
Certifications
4 Year College Degree and 3 years of college athletics; football and track.
Personal Trainer Overview
Professional Personal Trainer and Motivational Life Coach.The session will consist of a warm-up, stretching, form and posture technical assistance, high intensity or low intensity exercises depending on the person. Every session is different and pace of exercises are as well. The goal is getting you to have fun as you get into the greatest shape of your life.
Training Philosophy
I'm a well rounded personal trainer, and my entire focus is to make sure every client achieves their goals. I've helped many client's lose weight and become more health conscious over my time, but changing their entire mentality on physical fitness is the biggest thing. And, one story is a client went from 395lbs to 269lbs in a year and two months.
Education
B.S. Health Physical Education/Exercise Science
Bio
Anthony Gillard, Owner/Founder of ACG Fitness, was born and raised on the South-side of Chicago. Anthony graduated from High School in 1995 and made his way to Huntsville, Alabama where he attended Alabama A&M University. It is at Alabama A&M where Anthony started his mission of living healthy and keeping fit. Anthony not only played wide receiver and tight end for the Bulldogs football team, he also excelled in running the 100 & 200 meter dash for the A&M track team. While at Alabama A&M, Anthony started to develop his training system and technique that is so successful today. He graduated in 1999 with a degree in Health Physical Education/Exercise Science and soon took his passion & dedication for fitness to Dallas, TX. Here he has served as a personal trainer, gym manager, and motivational coach for the past 6 years. Anthony has been a personal trainer for over 16 years and is he is waiting to help you transform your lifestyle and help you achieve all your fitness goals.