THE PERSONAL TRAINER CONNECTION!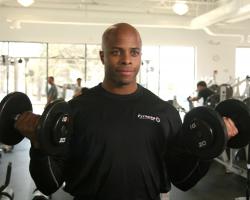 Specialties
Strength Building
Body Building
Weight Loss
Body Sculpting
Functional training, Lifestyle F
Training Locations
home
studio
work
outdoors
Personal Trainer Overview
At Battle Ready Fitness we combine the use of heart rate training with functional movements to achieve the best results in the shortest time possible. These techniques along with a virtual fitness plan will will guarantee your results as long as YOU follow the plan! Over and above all we will have fun exploring and mapping the new you!
Training Philosophy
Battle Ready Fitness always strives to be at the pinnacle of fitness with the latest and most up to date techniques in functional training--training for real life! Working at your anaerbic threshold for short bursts will increase your fitness along with long term fat burning. This with a caloric comsumption according to you BMR, will guarantee your results. We also prefer that our clients take 1-2 days of relaxation.
Education
With 21 years in the fitness industry, and the aquisition of several certifications; NASM, NESTA, ACE, POLAR Heart Rate Performance training and APEX Nutrition. We also have functional movement training, boot camps, and Lifestyle fitness coaching.
Bio
The best way that I can share my experience with you is to show my resume: HIGHLY MOTIVATED MANAGER With 20 years experience in training, motivating, building, and developing teams and individuals at all levels to peak performance. Highly motivated and committed to furthering the company's vision while maintaining a strong foundation for continuing success. Able to assess problems and initiate corrective action. Skilled in communication, motivation and guidance on all levels. Adapt easily to fast-paced high-stress situations requiring attention to detail and follow-through.. Skilled in organizing tasks and establishing priorities to increase efficiency and achieve maximum results. Staff/Individual Training, Development, Motivation • Coaching/Mentoring Managerial Leadership • Team Building • Recruiting • Organizational Skills Sales • Public Speaking • Exceptional Customer Service Diet and Nutrition • Injury Rehabilitation • Weight Training Cardiovascular Conditioning • Stretching and Flexibility WORK EXPERIENCE Xsport Fitness, Chicago, Il • 2008-2009 Health and Fitness Club Fitness Manager Managerial responsibilities include attracting new clients and retaining existing members; generating revenue; recruiting, managing and training staff; organizing and publicizing events; ensuring compliance with health and safety regulations; and overseeing maintenance of equipment and premises. The Fitness Manager is also responsible for the overall profitability of the personal training department. Typical daily activities • Designing and promoting activities to meet member demand and generate revenue • Organizing, training and supervising staff, including trainer rotation • Maintaining high levels of customer care and handling complaints, as necessary • Providing training for members • Preparing and checking budget • Completing wide range of other managerial tasks FITNESS 19, Grayslake, IL • 2007- 2008 Health and Fitness Club General Manager Provided both in-home and in-club personal training services to clients at a variety of fitness levels. Established programs and incentives for individuals as well as staff to help motivate, establish and achieve set goals. Develop employees to ensure continued success and advancement. Work with staff to develop and implement new training programs. Continuously meet club goals for revenue and profitability. Enhancement of member usage through creative and progressive programming. Exceed member expectations and actively promote and enforce retention initiatives throughout the club. Ensure all employees are providing members and guests with an outstanding work out experience. Developed and maintained strong account relationships with clients and vendors. Building strong relationships with existing client companies as well as established and building relationships with potential clients and current members. Enforce company policies as well as federal, state and local laws. Complete all administrative tasks in a timely manner. Maintain CPR, First Aid and OSHA standards. • Reached monthly membership sales records of $27K for 6 consecutive months • Increased membership sales 40% for 8 consecutive months for client by designing and implementing special promotional projects and activities to heighten public awareness and interest. • Incorporated corporate sales program which increased steady stream of new revenue and community awareness • Increased personal training sales 15% in 1 year. • Implemented new computer program which streamlined and increased profitability of personal training department LIFESTYLE FAMILY FITNESS, Columbus, OH • 2006-2007 A Family oriented fitness club Sales Manager Responsible for the profitability of the health club. Managed revenue streams for membership, retail and personal training sales. Maintain the business plan and marketing strategies to increase membership sales. Oversee, develop and motivate sales staff. Proactively generate new leads and sell memberships. Responsible for personal production through sales of club memberships and personal training packages and over see club staff production. Establish, developed and maintained strong account relationships with clients, members and vendors. New business development through community outreach and education of how potential clients and members can achieve a healthier way of life. • Reached monthly membership sales records of $22K for 6 consecutive months • Increased membership sales 35% ANTHONY BATTLE • Page 2 • tonytone968@yahoo.com TONE TO THE BONE PERSONAL TRAINING, Las Vegas, NV • 1996-2006 Personal training and consulting firm catering to both individuals and health clubs, Owner/Trainer: Provided both in-home and in-club personal training services to clients at a variety of fitness levels. Enhanced clients workout efficiency through creative and progressive training techniques and programs. Provided training to various staff in various positions, trained clients in fitness and safety. Developed safe, professional and comprehensive personal training programs to ensure clients were satisfied, remained motivated and attained their personal fitness goals. Educate clients on current health and fitness issues and trends, monitor and instruct clients during personal training sessions on the safety and effective use of cardiovascular, flexibility and strength training. Conduct fitness evaluations and consultations from starting a training program throughout until goals have been achieved. Recruiting, hiring, and development, sales and incentive programs, equipment purchasing, grand opening events, public/community/corporate relations. New business development and building strong relationships with existing client companies as well as established and building relationships with potential clients and current club members and clients. • Various Clubs include Family Fitness, Bally's Total Fitness, In-training, Powerhouse Gym, Gold's Gym, 24 Hour Fitness, Pure Formance, Lifestyle Family Fitness and Fitness 19 COMPUTER SKILLS Microsoft Word, Microsoft Excel, Internet EDUCATION United States Air Force 1986-1990 Orange Coast College 1989-1990 CERTIFICATIONS Certified Personal Trainer N.A.S.M, ISSA, ACE, APEX, NESTA 1990-Present CPR & AED Certified- Current *Excellent professional and personal references available upon request*