THE PERSONAL TRAINER CONNECTION!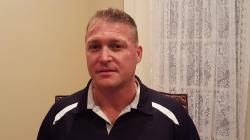 PROFESSIONAL FITNESS TRAINER
Anthony Amato -
(386) 847-0756
Naples, Florida 34104
Trains both men and women.
contact trainer
Specialties
Strength Building
Body Building
Weight Loss
Rehabilitation
Aerobics
Kick Boxing
Body Sculpting
Nutrition, Exercise Therapy, Sen
Certifications
ISSA Certified Fitness Trainer ISSA Certified Specialist Exercise Therapy ISSA Certified Specialist Fitness Nutrition CPR/AED Certified TRX Suspension Trainer
Personal Trainer Overview
AJA Fitness's training methods are a combination of aerobic training, personalized weight/strength and conditioning training and flexibility training. One on one private training sessions or group training sessions are available. All sessions are dynamic, full body workouts that will keep you engaged.
Training Philosophy
"OUR KNOWLEDGE, YOUR GOALS, STRIVING FOR EXCELLENCE TOGETHER"!! AJA Fitness is committed to developing personalized fitness and wellness programs that are specifically designed to motivate you, support you, and take you to your desired level of strength, flexibility and performance all in a safe, educated and friendly professional environment. AJA Fitness believes that a strong nutritional program is as important as a strong fitness program. AJA Fitness offers several nutritional programs that will be specific to the clients fitness and wellness needs and level. My motivation comes from clients reaching their fitness and wellness goals. As stated previously"OUR KNOWLEDGE, YOUR GOALS, STRIVING FOR EXCELLENCE TOGETHER"!!
Education
International Sports and Science Association Fitness Trainer certification course Specialist in Exercise Therapy course Specialist in Fitness Nutrition course TRX Suspension Trainer certification course Martial Arts: United States Chung Do Kwan Association. Black belt ranks, Instructor. 15 years fitness/personal training experience. Training experience with athletes, youth and seniors. Specialties: Exercise Therapy, senior fitness and wellness, speed and agility training, strength and conditioning training, aerobic training, athletic training and nutritional strategies.
Bio
AJA Fitness founder Anthony Amato was fortunate enough to participate in athletics at the highest level. To maintain that high level of performance without his trainers and coaches would have been impossible. Paying forward my knowledge of athletic training, fitness nutrition and exercise therapy is what AJA Fitness was founded on. To help others achieve their personal and specific fitness and wellness goals is what we at AJA Fitness strive to achieve. With over 15 years experience in the wellness and fitness industry, AJA Fitness specializes in weight loss, muscle toning and firming,aerobic training, weight training, athletic training, speed and agility training, flexibility training, strength and conditioning training, exercise therapy, senior fitness and wellness, fitness nutrition and all other aspects of physical and mental wellness and fitness.