THE PERSONAL TRAINER CONNECTION!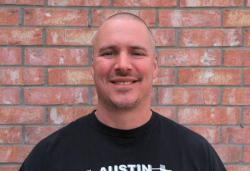 Specialties
Strength Building
Body Building
Weight Loss
Rehabilitation
Body Sculpting
corrective flexibility
Training Locations
gym
My facility, Austin Fitness Cent
Personal Trainer Overview
I have been a personal trainer in Austin for 21 years, as well as a gym owner for close to a decade. I believe in true personal training, as opposed to the industry stereotype of IMpersonal training. With a vast and in depth knowledge of anatomy, bio-mechanics, physiology, nutrition, and kinisiology, I am able to deliver the results my clients need whether they are preparing for a movie role, are a professional athlete preparing for a competition, a physical therapy patient, or someone just wanting to drop a few pounds.
Training Philosophy
I have long held the belief that sweeping statements should be swept under the rug. Everyone is individual, despite occasional similarities, and needs to be treated as such, both personally, as well as professionally. One size fits all stereotypical personal training is a waste of a client's time and money, and can furthermore, lead to injury
Education
I have written over 700 articles over my 21 years as a personal trainer in Austin, as well as having read countless medical journals. I believe in continuing education, as well as adopting your own theories and philosophies as opposed to simply engaging in the stereotypical fitness practices.
Bio
I am a very friendly, laid back, yet driven person who grew up in NYC, and moved to Austin quite a while back. I founded my own gym, the Austin Fitness Center, close to a decade ago to ensure my clients a positive, clean, well equipped, and friendly atmosphere in which we can train. I have been very happily married to my wonderful wife Aleksandra for close to 18 years and I simply adore our 2 beautiful young children, Luka and Ana