THE PERSONAL TRAINER CONNECTION!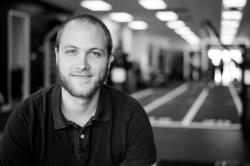 Coaching Health, Habits, and Lifestyle
Andrew LeMasters -
(863) 812-5951
Fort Lauderdale, Florida 33324
Trains both men and women.
contact trainer
Specialties
Strength Building
Weight Loss
Rehabilitation
Pain Management
Certifications
NSCA Certified Strength and Conditioning Specialist
NASM Corrective Exercise Specialist
NASM Senior Fitness Specialist
USCDKA Taekwondo Instructor
ViPR Pro Coach
Personal Trainer Overview
Hi there! I know you want to see prices, so here it is: I have a free program, $25 group sessions, and privates from $55 to $85. We can make some combination of them work for your budget. But, I'm also a great trainer, with good reviews, and an great system to help you reach your goals.
Training Philosophy
During our first meeting, we'll go through your initial assessment and consultation. This allows me to work with you in designing your training program as well as your health goals and nutritional steps. After that, you'll receive a summary of what we talked about that clearly lays out the details of what we plan to do about it in the weeks to come. In addition, you'll get information about your online training program, accountability group, and more. As a local client, you will also gain free access to everything I do online. This primarily includes lifestyle and mindset education, and a training program of intense 16-minute workouts for you to do at home—all delivered in a neat, concise email every Sunday night. In addition to your training inside the facility, we will work together to select incremental health and nutrition habits that you can begin to practice as we work through your journey. These steps may be as simple as including a vegetable at dinner, sleeping an extra 15 minutes, or practicing 60 seconds of breathing exercises when you first wake up. You can join small client groups to stay connected with others who are on a similar journey, and I will keep in touch with you to keep you accountable as well. As you work through your training program, successfully reach milestones, and build new habits, we'll make sure to reassess frequently enough to keep your program updated. This way every session will strike the right balance what you want and what you need.
Education
- B.A. Interdisciplinary Studies - Multiple certifications - Mentoring through Peak Fitness, Hanley Training Systems, and the Institute of Motion.
Bio
I'm Andrew LeMasters. I've been coaching for over 11 years and not only have a been lucky enough to be surrounded by incredible mentors, I have also studied with organizations such as NSCA, NASM, USCDKA, ViPR, and IoM and received certification as a Strength and Conditioning Specialist, Senior Fitness Specialist, Corrective Exercise Specialist, ViPR Pro Coach, and more. When I'm not helping people reach their health and fitness goals, I'm probably at church or at home in Pembroke Pines with my wife, Meghan, and our daughters Penelope and Nora. I believe everything about you is unique. Every one of my programs considers tightness, weakness, experience level, preferences, health, goals, expectations, injuries, and any other concerns we can think of so that you're never forced into a box. Plus I understand that some days are more painful, stressful, or draining than others. I strive to be as adaptable to you as possible, adjusting sessions on the fly as needed. Also, I like to get along with my clients, so don't be a stinky person.