THE PERSONAL TRAINER CONNECTION!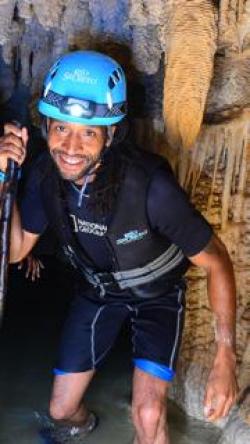 Perfect Personal Trainer
Andre Pearson -
347-752-1103
Brooklyn, New York 11212
Trains both men and women.
contact trainer
Specialties
Strength Building
Body Building
Weight Loss
Rehabilitation
Body Sculpting
Flexibility, Core & Balance, Ket
Training Locations
home
gym
studio
work
outdoors
Certifications
NPTI Certified Basic Nutrition Certified CPR / AED Certified
Personal Trainer Overview
People who are seriously interested in getting in the best shape of their lives. Whether you have never worked out in your life I can help you achieve your goal. My job is to set challenging, believable, achievable goals within a specific time frame, then put them down on paper so now they become measurable. You are what you eat and proper food intake plays a significant role. About 70 percent of your success is going to be from the things you eat so I also provide nutritional consultations along with weight training and I show you how to burn fat more efficiently while doing your cardio. Don't feel like you have to make all of the changes overnight. Remember living healthy is a lifestyle. I'd rather you take things slowly and stick to your plan for the long term than to dive in and quit because it was too hard. The more positive changes you make in regards to your eating habits, the better you will feel and the more energy you will have to happily continue you quest for optimal health. The third aspect of ensuring your results is the accountability factor, and accountability over time works out to be consistency. We know that in anything, if we are not consistent, we are not going to be successful. Motivation ties into this because I instill in you a greater degree of commitment to accomplishing your goals. Motivation is the difference between accelerated results and just kind of moving along at a slow rate and I'm sure you're like everyone else and you prefer results sooner than later. Proper technique also plays a big role. First to avoid injury and second, if you aren't doing things correctly you will not be able to get the optimal benefits from the exercises or for your time. The benefits of personal training are endless, but I will single out a few: a better, longer life through exercise; an education that will stay with you for the duration of your life; better self esteem; a positive impact on your personal relationships; better performance at work; more energy; healthy meal planning; and lower stress levels. This is just a portion of the benefits. The possibilities are endless.
Training Philosophy
One of the best presents you can give a friend is the gift of health. Not only will you help them gain better health, but you will gain friends who will encourage and support you. It's not hard to be healthy, to be vital, to be productive and to have a beautiful body, it's just a choice. All you have to do change your thinking and allocate your energy to achieving what you want, not what you don't want. Aim at nothing less than physical perfection, including great strength, quickness, and skill, exuberant health, and the beauty of muscular form that distinguishes a physically perfect human being. While many people think movement or exercise, eating correctly and being healthy is a lot of work, the fact of the matter is that moving too little, and eating incorrectly are just choices that will lead to physical, emotional and mental degeneration. The world is getting obese while it is getting sick, and you are the only one who can change that.
Education
United States Navy Veteran National Personal Training Institute Graduate
Bio
André Pearson has personified health throughout his 28 years. From his teen years as a student athlete to his military training, he has embraced the mantra of "Health is wealth so one of the best presents you can give a friend is the gift of health." André Pearson is not here to help you lose those 10 lbs that you abhor on January 2nd. He is here to engage the individual in their understanding of the power they have to positively and negatively affect the body. Andre Pearson combines Personal Training with his work ethic and an ability to help his clients to believe they have the strength to build and condition their bodies to achieve individual peak fitness. Since becoming CPR/AED and NPTI (National Personal Training Institute) Certified in April of 2007, André has focused on designing a program that encompasses high quality physical training with nutrition counseling and healthy meal planning to demonstrate how healthy movement can be simple, fun and rewarding. Having supported clients through their successes anywhere from one to two and half years, he has seen some through weight losses of up to 60 lbs in 26 weeks. Whether assisting women post pregnancy to regain tone and definition or going so far as to go with a client to the grocery store and overhauling pantry and refrigerator in the name of nutrition, André Pearson is committed and dedicated to ensuring his clients get the best possible results. André Pearson wants to prove to you that you can have better self esteem, better performance at work, more energy, and lower stress levels and thus longer life through exercise by providing you with an education in fitness that will stay with you for the duration of your life. Currently accepting clients, see contact information below: André Pearson ptwithandre@gmail.com 347.752.1103