THE PERSONAL TRAINER CONNECTION!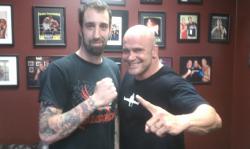 CERTIFIED PERSONAL TRAINER AND MMA INSTUCTOR.
Aaron Skates -
917-456-6336
Norwalk, Connecticut 06851
Trains both men and women.
contact trainer
Specialties
Strength Building
Body Building
Rehabilitation
Aerobics
Kick Boxing
Body Sculpting
circuit core/ kettlebell
Training Locations
home
gym
studio
work
outdoors
Certifications
AFI CERT PERSONAL TRAINER BAS RUTTEN KICKBOXING INSTRUCTOR CONNECTICUT PRIVATE SECURITY CERTIFIED CONNECTICUT BAIL ENFORCEMENT AGENT WATER SURVIVAL TRAINING INSTRUCTOR LIFEGUARD AND CPR INSTRUCTOR
Personal Trainer Overview
I have been involved with athletics all my life. I played varsity sports in high school. I served 8 years as a Navy helicopter rescue swimmer. The last 3 years I was an instructor at naval water survival institute in Pensacola, FL. I have been coaching and competing in mma and kick boxing for six years.
Training Philosophy
My training philosophy is simple. I want to make your life healthy. I evaluate ever person to come up with a workout that best for there lifestyle. I start with your diet then come up with a training regiment.
Education
Bio
I do not hold myself to any one style. I evaluate every person and come up with what I believe will get the best results. As I was growing up I played a lot of sports. I had great opportunities to go to a ot of professional camps for basketball and baseball. I carried that over to the military where I attended Air Crew school and Rescue Swimmer School in Florida. I then moved on to San Diego to attend Survival, Evasion, Resistance, and Escape training. I finished school with Fleet Aviation Specialized Operational Group, Pacific Fleet and then went to Guam for 2 1/2 years with a tour in Iraq. After the tour ended, I excepted orders to Naval Survival Training Institute where I ended my navy career. I am a Bas Rutten certified instructor and have been training a variety of clients as a personal trainer since 1996.