THE PERSONAL TRAINER CONNECTION!
Personal Trainers in Mount Vernon, New York
Personal Trainers in Mount Vernon, New York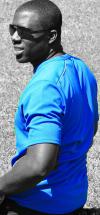 Get Fit and Push Yourself to a New Level!! MTH Fitness
Marcus Hodge

Mount Vernon, New York 10552

Specialties
Strength Building
Body Building
Weight Loss
Boot Camp, Pre/Post Natal
My goal as a personal trainer is to be the one that provides the discipline, motivation, and assistance to help you reach your goals! Yes, the same goal that you weren't able to do last month or last year. But, with me giving you that extra "push", we can reach YOUR goals together. I have over 2000 hours of personal training experience. I am a professional, responsible personal fitness trainer with the patience, experience, and the PROVEN success helping people meet their health and fitness goals. I specialize in clients, whose goals are weight loss, body fat reduction, strengthening and toning. My latest weigh in were Client A- 5 lbs in one week, Client B-12lbs in 3 weeks, and Client C 20lbs in 2 months.
More details about Mount Vernon, New York Personal Trainer Marcus Hodge